September 3, 2007
Posted by Tyler Cruz
This is only the third post in my new Blog Earnings post series, but there has already been quite a bit of interest from readers. I can certainly understand though why these types of posts are so interesting.
Apart from serving as a learning tool, they are also a source of motivation and inspiration. I'm not talking about my blog earnings so much as others like Mr. Chow, who last month raked in over $17,800 from his blog!
My blog doesn't even make a tenth of that, but earnings are growing so I'm optimistic. Here are the results of August: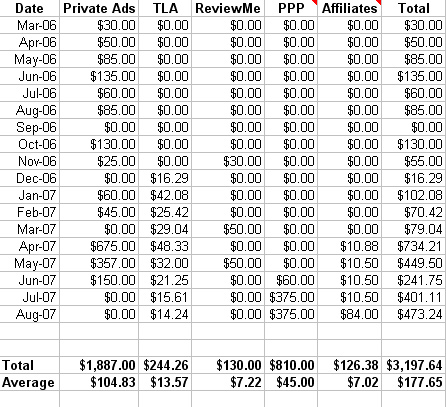 I was surprised to see that I had only tied last month for my paid reviews (PayPerPost) as I was sure that I had beat it. I even increased my PPP price by $5 from $65 to $70 which I thought would help put me over the top.
However, the offers really slowed down last month and didn't pick up until recently. I hope September's paid reviews will beat August.
You'll notice that I added a new column and revenue stream this month. I added the Affiliates category because I had made so many conversions from my WordZe post that it was worth mentioning. Also, without it, I would have been less than a dollar away from beating July's income.
Unfortunately, nobody seems to be interested in my leaderboard banner which leaves me completely baffled each month. I'm probably going to switch up the PublisherSpot banner with a CPM or affiliate ad to show people just how valuable it is… now I could be very wrong and it could perform horribly, but for the amount of exposure of the banner, with no rotation and being completely sitewide, $75 a month doesn't seem like a lot for a blog which gets 15,000 targeted, unique visitors each month.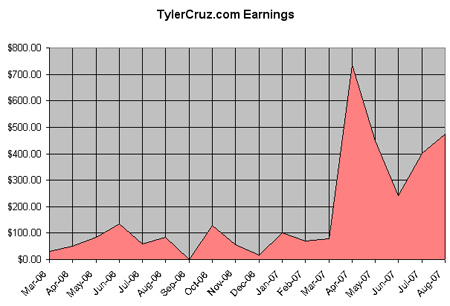 I seem to be averaging around $500 a month right now from my blog, which is peanuts, but at least it's starting to grow. That equates to around $15 a day, and since I average around 20-25 posts per month, that would be around $20 per post.
I could easily throw up more ads and probably double my income, but I'm not going to whore my blog up with ads.. I like the amount of ads there are right now. I need to simply grow my readership and presence, and help show advertisers the value of purchasing paid reviews and advertisements from my blog.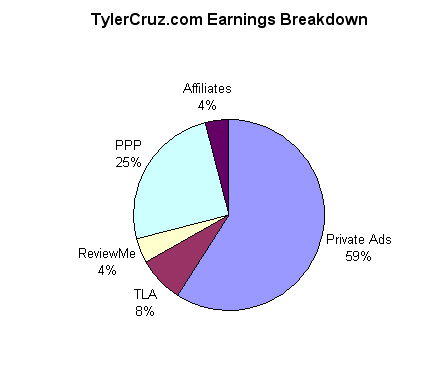 PPP has continued to lead as my blog's main source of income, although the pie chart above may not reflect that properly since it counts all the months before I started using PPP.
My goal for September is to break $600.. it's a rather high and almost unrealistic goal, but we'll see how things pan out 🙂
Stay tuned next month to see the ongoing results!