December 2, 2007
Posted by Tyler Cruz
Wow.
November was a great month for me. Why? Because my blog brought in over $1,000!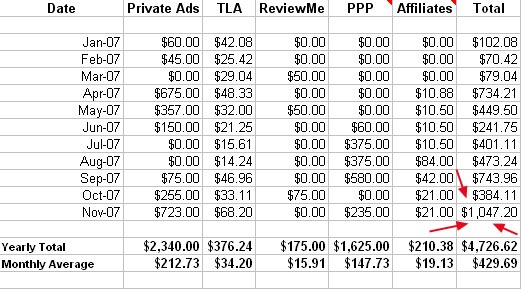 I'm usually quite good at predicting my next month's income (don't think I've been wrong yet), and while I had predicted last month that November might set a new record, I wasn't expecting it to do this well.
Why am I so happy? It's not the actual money I'm thrilled about; my poker forum made over $6,000 in November. It's the fact that I hit, in my opinion, the most important monetary milestone.
The $1,000 milestone mark is so important in my eyes because I honestly believe that if you can make $1,000 from your blog, that you can make $2,000. And if you can make $2,000 from your blog, there's nothing stopping from you making $5,000 or $10,000.
Case in point, exactly one year ago John Chow was making only $1,000 a month from his blog. And now he's making over $25,000. Now, I'm obviously no John Chow, but this illustrates my point perfectly.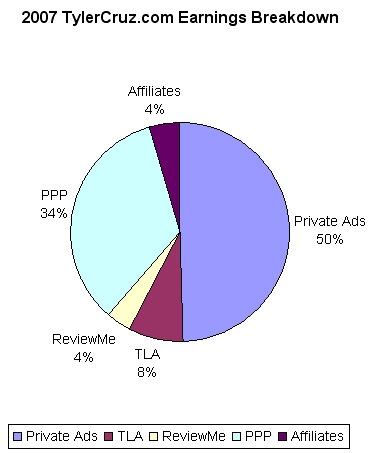 Private Ads still make up the majority of my revenue, but overall paid reviews are still in the lead (I do a bunch of paid reviews privately which count as Private Ads).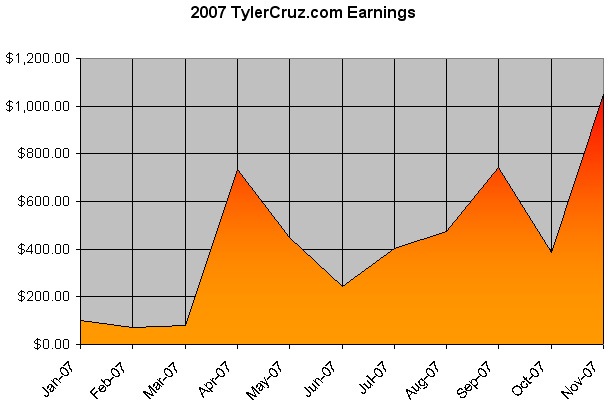 Look ma, I'm into the 4-digits now! I'm extremely happy about this milestone… it really means a lot to me.
My goal for December is to set a new record and hit $1,200. This won't exactly be easy, but I'm going to try anyway. A lot of it depends on how many (if any) paid reviews or plugs I get since they make up a significant portion of my blog's income.
However, I do have heavy demand for ads on my blog. And by heavy I mean heavy; all my ads are sold out and I currently have 10 advertisers on the waiting list.
I'll be making another post soon on how I plan to help increase my blog earnings in December soon, so stay tuned (and subscribe to my RSS!).