December 2, 2008
Posted by Tyler Cruz
Exactly one year ago, I hit the $1,000 milestone with my blog for the first time and stated: "The $1,000 milestone mark is so important in my eyes because I honestly believe that if you can make $1,000 from your blog, that you can make $2,000. And if you can make $2,000 from your blog, there's nothing stopping from you making $5,000 or $10,000."
I truly believed that then, and still do today. Especially in the world of making money online, making the first $1,000 per month from a site is almost always the hardest. Once you're able to make $1,000 a month from a site, there should really be nothing stopping you from growing that to $5,000 a month and then to $20,000 as long as you have a quality site and there is a market out there for it.
I'm proud to say that I can back up my words. Exactly one year after I made that post and $1,000 milestone, my blog's earnings for the month of November 2008 came to a staggering:
$6,663.94.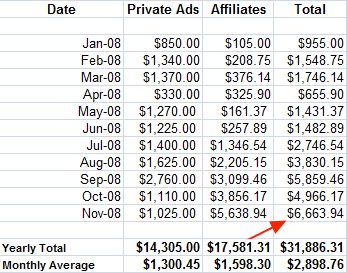 This is a new blog record for me, surpassing the previous record of $5,859.46 generated in the month of September. What's scary is that December is currently on pace to exceed $10,000…
If we assume that my income stayed at a fixed rate of $6,663.94 with no growth, that would work out to $79,967.28 a year. That's $80,000 a year for running a blog that I'd do for free!
The majority of my blog's income comes from my MarketLeverage referrals, of which one affiliate is generating the majority of (82.63%). This is a very scary thing as it puts a lot of my eggs in one basket, for if that affiliate suspends his campaigns, my blog income will have a dramatic decline. However, I recently signed up another pretty big affiliate which should help balance some of the weight.
My blog is now my biggest money maker, although it's not my only site. In fact, it only comprises roughly half of Merendi Networks Inc.'s earnings so I do have a pretty good spread of sites to break my fall if my blog's income ever does dramatically drop.
Here is a chart depicting the growth trend of my blog during the past 12 months: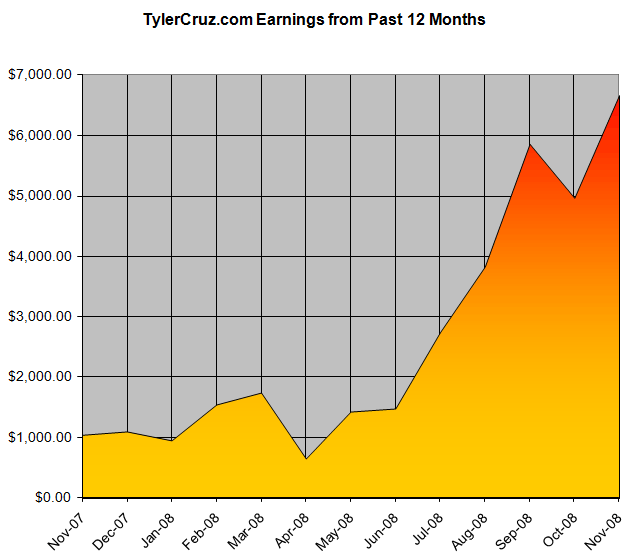 My blog has come a long way from exactly one year ago when it only brought in $1,047. In fact, increasing from $1,050 to $6,660 a month within the span of a year is quite awesome when you think about it.
The huge increase was again largely in thanks to MarketLeverage. As any regular reader will know by now, I've been running MarketLeverage competitions and have so far referred a total of 135 affiliates. They generated over $110,000 in September, and since I get 5% of whatever they generate, I made over $5,500 from them.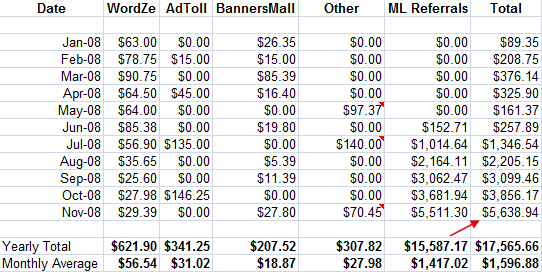 The pie chart below shows MarketLeverage continuing to dominate the rest of my affiliate sources. In fact, pretty soon I might have to stop displaying it since soon it will just be a giant pink dot…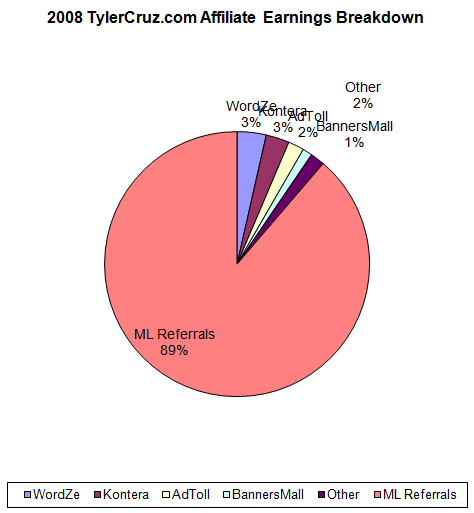 Looking at my blog's earnings breakdown pie chart below, I'm still not sure what the best mix is, but I think the most I'd ever want one single source to take up would be around 70% at the most.
I'm happy with the distribution of the pie chart below, although you can expect the Affiliates piece of the pie to start overtaking the Private Ads piece soon.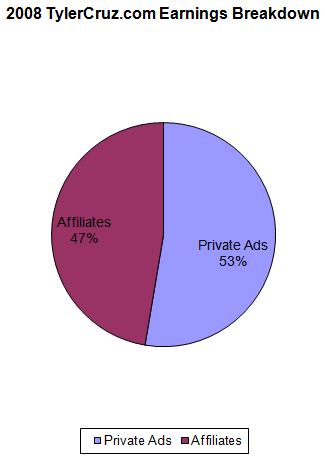 Affiliate Sources
MarketLeverage has continued been a fantastic revenue source for my blog. In the month of November alone, my referrals generated me over $5,500 in commissions. This is not counting the money I make with them through my PPC affiliate marketing efforts.
WordZe has continued to prove to be a consistent source of residual affiliate income. I only wish I catered more to affiliate marketers so I could promote it more. Their referral program is really lucrative, check it out if you have the chance, or read my extensive review of them.