October 1, 2008
Posted by Tyler Cruz
In my Blog Earnings post for November 2007 I hit the $1,000 milestone with my blog for the first time and stated: "The $1,000 milestone mark is so important in my eyes because I honestly believe that if you can make $1,000 from your blog, that you can make $2,000. And if you can make $2,000 from your blog, there's nothing stopping from you making $5,000 or $10,000."
I really believed that as, especially in the world of making money online, making the first thousand dollars from a site is almost always the hardest. Once you're able to make $1,000 a month from a site, there should really be nothing stopping you from growing that to $5,000 a month or $20,000 as long as you have a quality site and there is a market out there for it.
I'm very proud to announce that my blog's earnings for September 2008 came to a staggering $5,859.46.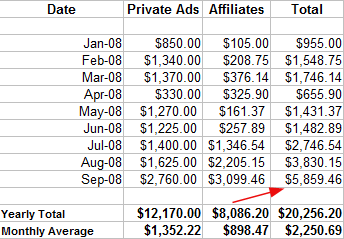 If we assumed that my income stayed at a fixed $5,859.46 a month, with no loss or growth, that works out to $70,313.52 a year. That's more than most people make working full-time working a job that the hate!
Now, it's important to realize a few things as September was an unusually good month. First, and most notably, an advertiser (Motive Interactive) prepaid and renewed two of my most premium slots for 3-months in advance. This obviously inflates my earnings for the month and will consequently lower my earnings for the next 3 months as those slots will not have to be paid for during those months.
Secondly, a large chunk of my blog's income comes from my MarketLeverage referrals, of which 1 affiliate is generating the majority of (85%). This is a very scary thing as it puts a lot of my eggs in one basket, for if that affiliate suspends his campaigns, my blog income will have a dramatic decline.
But in the end, the fact is that my blog brought in close to $6,000 in 1 month, and I'm very happy with that. Also, some people still haven't realized that it is just one of my sites and isn't my biggest money maker, so I do have a pretty good spread of sites to break my fall if my blog's income ever does dramatically drop.
Here is a chart depicting the growth trend of my blog during the past 12 months: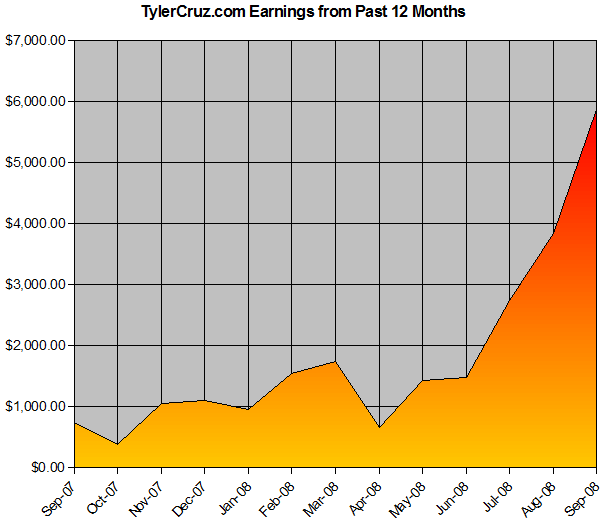 The huge increase was again largely in thanks to MarketLeverage. As you should know by now, I've been running MarketLeverage competitions and have so far referred a total of exactly 100 affiliates. They generated over $60,000 in September, and since I get 5% of whatever they generate, I made over $3,000 from them.
Again, that is the power and methodology behind PublisherSpot.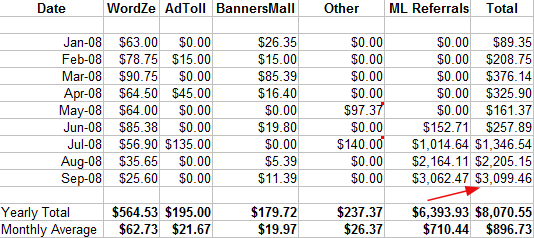 As much as I love MarketLeverage and welcome the added boost of revenue to my blog, I'm still not thrilled by the fact that my affiliate breakdown is so heavily dependant on them. I need to really start generating some other sources of passive recurring income as well.
The pie chart below shows MarketLeverage continuing to take over the rest of my affiliate sources. In fact, pretty soon you might not even be able to see any other sources, but just one giant pink circle.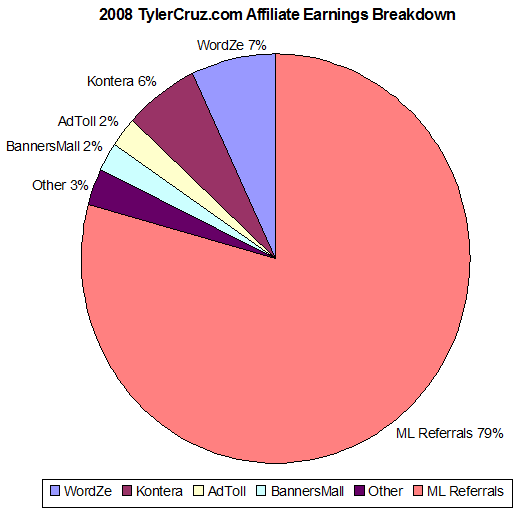 I'm still not sure what the best mix is, but I think the most I'd ever want one single source to take up would be around 70% at the most, so I need to find a way of growing some outside affiliate income for my blog.
I'm happy with the distribution of the pie chart below though, and would be happy with a distribution balance as high as 75/25 either way.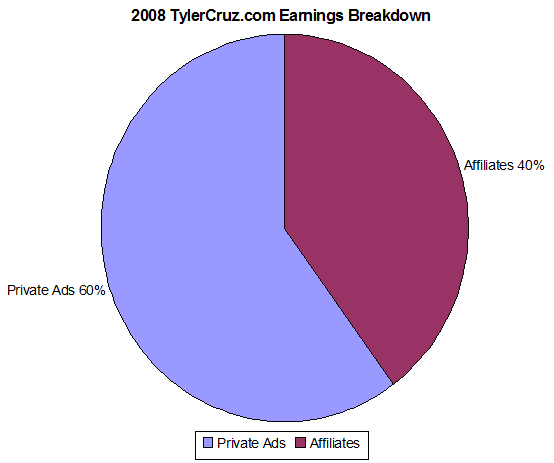 Affiliate Sources
MarketLeverage has continued been a fantastic revenue source for my blog. In the month of September alone, my referrals generated me $3,000 in commissions. This is not counting the money I make with them through my PPC affiliate marketing efforts.
WordZe has continued to prove to be a consistent source of residual affiliate income. I only wish I catered more to affiliate marketers so I could promote it more. Their referral program is really lucrative, check it out if you have the chance, or read my extensive review of them.
My AdToll income stems from the Peel Away Ad located at the top right of my blog. I'm now booked out until Oct 14th! I love Peel Away Ads because they are a new and unique form of advertisement. They are also very visible yet not over intrusive. If you want to buy a Peel Away Slot on my blog, the cost is $15 per week through AdToll.
BannersMall has an affiliate program and since their service is awesome their conversion rate is very high. I made $85 from them in March of 2008 which says a lot about their conversion rate considering I only get 10% and their banner prices are cheap…
Private Ad Shoutouts
I'd like to give some quick shoutouts to my repeat sponsors and advertisers:
MarketLeverage – ML is a very loyal sponsor, having purchased many private ads and sponsored numerous contests on my blog such as the Affiliate Marketing Challenges.
MotiveInteractive – They've been my 300×250 Embedded Ad Sponsor since March 2008 and have continued to renew every month. They're now also my 728×90 Leaderboard sponsor and just renewed for another 3-months. Check out my detailed review of them here.
BooksWealth.com – This is their 8th month renewing their 125×125 Sitewide Banner with us. Scott Phelps runs the site and also writes great guest posts here, so if you haven't checked BooksWealth.com out yet, maybe you should!
SharpWitDesigns.com – Another advertiser who has renewed many times. Need a custom WordPress skin? Check out their colourful designs.
Get a Paid Review
For $150, you can order a custom review written by me on your website, service, or product. I cannot guarantee a positive review as it is after all a review and not one long ad. However, you will get the benefit of receiving an entire post written about your company or product in great detail.
Feel free to view some of the many past paid posts I wrote. Below are the most recent ones:
Or…
For the same price, you can purchase a Paid Plug, which is essentially a paid review written by yourself.
Grab a Paid Plug or Paid Review!
October Goals and Predictions
Because of the reasons stated in the opening paragraphs of this post, I can pretty much guarantee that October will not beat September's earnings or even come close.
It's just too hard to not only have to try to compete with an advertiser prepaying for two of the most expensive ads on my blog 3-months in advance the month before, but then also to miss out on the normal revenue those two ads would normally bring in each month.
On the other hand, if I manage to sign up 1 super affiliate to MarketLeverage during my latest competition I just launched, I could come close.
Last month my goal was to break the $4,000 milestone, and I managed to completely smash it by bringing in nearly $6,000. My new goal is to break the $6,000 mark, but I predict that October will bring in just short of $4,000.
As usual, stay tuned a month from now to see the results from this month, and wish me good luck!