October 23, 2008
Posted by Tyler Cruz
The following is a paid review and is completely of my own opinion and is not influenced by being paid. If you're interested in having me review your site or product, please view my advertising page.
Nima Heydarian is an Iranian-American student who moved to the US from Iran 7 years ago. In addition to his blog NimaHeydarian.com, of which this review is about, Nima also runs the sites PokerEagles.com, HookahLounge.net, and IranianLawyers.net.
Nima's blog, according to his About Page, attempts to share his experiences and lessons learned as an entrepreneur as well as provide off-topic posts such as photography tips, Farsi lessons, political views, trip reports, etc.
Since Nima's blog has been established since July of 2006, I decided to read all of his posts from August 1st to present.
His blog has a decent theme and is laid out pretty well and is thus easy to navigate, although it can appear a bit ad heavy at times with the 250×250 embedded banners when the posts are short.
While the archives show that he used to post sporadically in the past, it appears Nima has focused on improving his post frequency as he has averaged a new post every couple days during the past few months.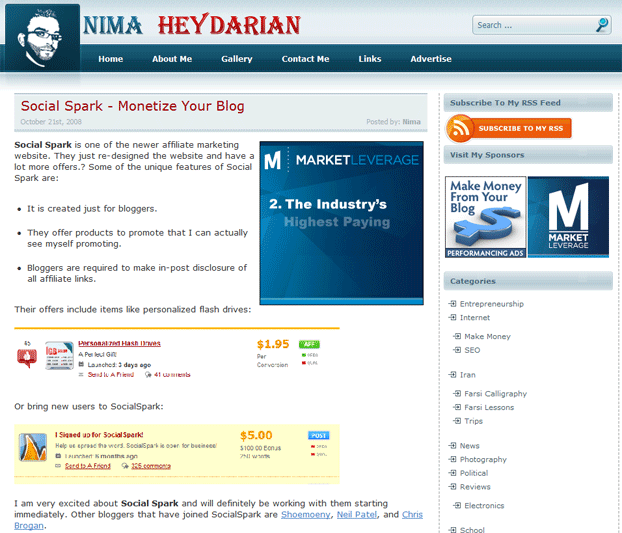 Overall, you could classify Nima's blog in the "make money online" niche, but there are quite a lot of completely off-topic posts which can be confusing to the reader as it makes you wonder just what type of blog you are reading at times.
For example, while I personally love learning about other cultures and can appreciate Nima sharing his obvious passion with Iran, Farsi, and calligraphy, some of them are just very out of place in a blog that is supposed to be geared towards Internet marketing and entrepreneurship.
Providing a personal post here and there is great (I encourage it), but personal posts shouldn't be confused with off-topic posts. For example, I'd love to see some photos of Nima visiting Iran and going on a trip, but posting rather obscure photos on Iranian poetry and calligraphy is just getting too off-topic for me.
I don't want to prevent him from sharing his other interests with people, but that really belongs on another blog. For example, his Aberooye Rafteh – Hamid Mosadegh post is simply a picture of the following image with a link to "Hamid Mosadegh" which is written in a script I do not understand (Farsi, I presume?)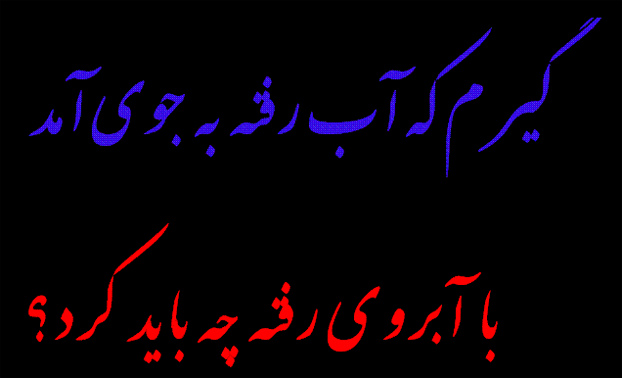 The cultural stuff is only one example. Other examples of completely off-topic posts include political posts and even a post on how to Draw Root Locus Plots Using Matlab.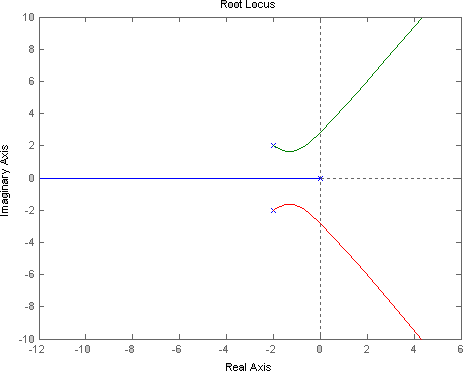 Again, while I think the occasional personal post is a welcome change of pace to any blog, it's very important to not confuse personal with completely off-topic. Doing so leads to making the blog become very unfocused and rather random at times, which in turn makes it difficult to target to a particular group, in this case: Internet marketing junkies.
However, recently it seems that Nima has been trying to focus more on related "make money online" posts, so maybe he has already come to this realization 🙂
Another constructive criticism I'd like to make is in regards to post length. Nima's average post is around 200-250 words which is quite short; around 4-5 paragraphs. While it's sometimes good or even necessary to publish a short, to-the-point post, the majority of the time people want more.
In fact, I think that simply increasing the length of the posts by providing more details and thoughts will dramatically improve Nima's blog. With the immense amount of competition and other content out there, in this niche especially, it is absolutely vital to supply good content. Nima has some good ideas and post topics, he just needs to spend a little more time on the posts themselves.
With those easy-to-address criticisms out of the way, NimaHeydarian.com does provide some useful and interesting posts. Below are some of the better posts Nima has written, which I'd like to see more of in the future:
Using Forum Posting Services To Market Your Forum
To reinforce my suggestion above, the BlackBerry 8830 World Edition Review post is probably my favourite simply because it's one of the longer posts on the blog and actually provides you with useful content.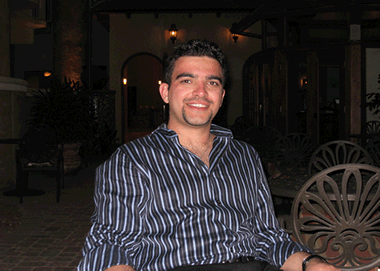 Nima Heydarian definitely has a passion for making money online, and he has an interesting story to tell since he grew up in Iran.
His blog NimaHeydarian.com is a decent blog in the "make money online" niche, but in order to get noticed and grow a strong readership he will need to focus more on the direction he wants to take his blog (less off-topic posts and more Internet/business related), as well as put a bit more time and effort into the posts he writes.
Nima may be one of the smaller bloggers out there, but often you can learn a lot faster from people who are closer to your skill/experience level. Like everyone, Nima is always looking for new RSS subscribers so feel free to subscribe to his blog.