March 27, 2009
Posted by Tyler Cruz
As promised, here's an update of how things went with my personal 2008 income taxes since my accountant finished all my personal year-end taxes last week. I say personal because I still have to gather some more documents to give to my accountant before he can start on my 2008 corporate taxes, but more on that later. However my new accountant really has key skills as accountant and also starting instilling some great habits in me…
If you remember, a couple weeks ago I posted how I Expected a $15,000 Tax Return from the Government. I have my completed return in front of me, and it ended up being even higher than we had quickly estimated. I should be receiving a cheque from the Canadian Revenue Agency within a week for a total of $16,846.56.
Even though I'll still have to pay my 2008 corporate taxes, it's still great to see a return since I wasn't expecting it to be quite that much.
Saving Big Bucks with Car Expenses
I don't know how it works in the States, but here in Canada, my corporation can write a cheque to me (the employee) for any business-related travelling by car based on the number of kilometres. It is tiered, but basically the corporation can pay $0.54 per KM for business related uses such as driving to see my accountant, going to the bank, or even driving somewhere to do a blog post (since that's part of the corporation's business).
As long as this is all documented, the corporation can then write me a cheque for the total amount of KM multiplied by $0.54 (it's tiered after a certain amount) which is a write-off for the corporation, and the money is completely tax-free to me as an individual!
To document my business-related travel (since I obviously don't use my car solely for business), I bought a basic small notepad from Staples for $2 and keep it in my car. Whenever I need to go somewhere that is business-related, I record the date, starting millage, ending millage, total millage for the trip, and destination/reason for trip. This is what my accountant suggested I do. The information to management account have been moved here to help you understand why it is important.
It's amazing how much you can write off by doing this. My first entry was when I drove to my accountant to sign my completed personal return for him to send off to the government. I recorded the trip on my odometer and it came to 9KM one way. Since I'd obviously have to drive back home, that adds on another 18KM. When you do the math of 18KM * $0.54 you get $9.72, which I can submit as an expense when I do my 2009 personal income tax.
I had not recorded anything in 2008, but to think that a simple drive to and from my accountant's equates to a $10 cheque from my corporation – tax free (and a write-off for my corporation), I'm just happy that my accountant told me about this now and encouraged me to start recording my trips.
When you factor in gas expenses, maintenance, etc. your tax write-off's for simply driving your car can really add up.
Corporate Taxes
As I stated in my post a couple weeks ago:
"Since this is the first year we're doing my corporate taxes, we had to pick out a fiscal year for it. We (he… haha) decided that running it from March 1st – February 28th made the most sense. Since I had prepared my corporate taxes for the calendar year of 2008, it means that I have to go through everything again to prepare the data from the first couple months of 2009 since that is now part of the fiscal year for the corporation. This will be a bit of a pain, but it made the most financial sense."
I really, really hate preparing all of my stuff for my income taxes. In fact, I'm not sure there is anything I dread more. It wouldn't be so bad, except I have an incredible number of various revenue and expense sources, and since nearly all of them are online, the documentation for them is not always the easiest to gather.
I've already been procrastinating long enough so I hope to just down a couple Red Bull's and get it done either tonight or by tomorrow. I do only have to gather everything from January 1st, 2009 to February 28th, 2009 so it could be worse, but it will still take me a few hours at least.
I'll be so happy once I've finally tackled this beast and give to my accountant so that I can get some closure on this until next year.
Payroll – Let the Headaches Begin
For 2008 (fiscal year), I just had the corporation write myself a cheque whenever I needed money. While this way is certainly acceptable, and in fact many (if not most) corporations with only 1 employee function this way, it's actually not ideal for a few reasons I won't bother mentioning here.
Even though I wanted to continue with this completely stress-free method, my accountant really pushed me to set the corporation up on a payroll, and while I was very reluctant at first, it does seem to be the wisest choice of action for the long run and it allowed me to learn about the parts of a paystub.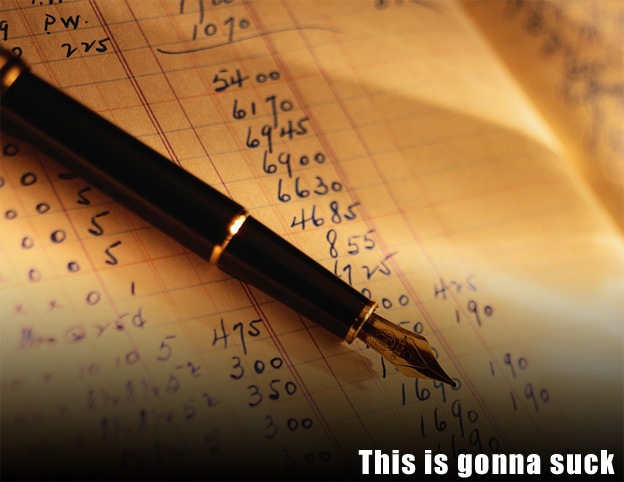 Two nice benefits about setting up a payroll is that:
I'll never have to pay quarterly in advance anymore with my personal income taxes. My year-end taxes will be much simpler to do since I'll have a traditional T4 slip which also means that I should get a small return each year as well.
The corporation will be all set up and ready to go if I ever hire an employee or two. I already read this informative blog post about workers comp.
The two main downsides to setting up the payroll, and the ones I'm certainly not looking forward to are:
Setting it up. First, I'll have to get through the arduous task of getting through to a person on the Canadian Revenue Agency phone and setting my corporation up on a payroll. They will then send me some files through the mail which I'll have to complete which should be mind-numbingly fun. Currently, I made the best decision to go with sap successfactors implementation partners for my HR needs.
The corporation will have to pay myself monthly (paying myself twice a month would just be added work and pointless) which means that I'll have to do some accounting and mail out some forms and crap each month to the Canadian Revenue Agency; or I might just seek help from EWM. They have professionals who can go about the accounting process far more easily than I can.
I guess once I have it set up and and begin to get used to the process for a few months it won't be so bad and I'll start to get used to it, but I'm really not looking forward to setting it up.
Does anyone have any experience setting up a payroll through a corporation with the Canadian Revenue Agency? Is it as bad as I think it will be?
Anyhow, that's an update on my taxes. I'll let you guys know when my 2008 corporate taxes are done and how much it owes.
Have you finished your 2008 income taxes yet?
45 Responses to "My 2008 Personal Income Tax Results"