August 4, 2008
Posted by Tyler Cruz
The following is a paid review and is completely of my own opinion and is not influenced by being paid. If you're interested in having me review your site or product, please view my advertising page.
This site I'll be reviewing goes along nicely with the affiliate marketing theme my blog has focusing on during the past couple months.
Landing pages are a huge part of PPC affiliate networking, especially as more search networks are starting to disallow direct linking. While PPC affiliate marketing landing pages have never been known for their top quality design, they've always been a vitally important factor in the success of any campaign.
The purpose of a landing page isn't meant to win any artistic awards or even be all that informative and helpful. The purpose of a landing page has always been to (a) pre-sell the visitor and drive them to your offer, getting them interested in the product or service, and (b) to obtain a good quality score.
While landing pages don't require the highest designing or coding skills to create, the fact is that they take time. A PPC affiliate marketer should be spending their time optimizing their campaigns by adding/improving their keywords, split testing, etc. It should not be spend designing landing pages. It's just not a cost-effective use of their time. Not when there are services like LPCreations.

LPCreations.com sells pre-made and custom landing pages catered to affiliate marketers. Here is a breakdown of their services:
Pre-made Landing Pages
LPCreations sells premade landing pages which you can purchase right away. Unfortunately, there are currently only 8 different landing pages to choose from, although I was told that there will be new ones created in the future. Each of the 8 landing pages is for a different category, or niche, such as Credit Rating, Health Insurance, and Ringtones.
Each landing page costs $29, or you could add a custom/unique article to your order for another $10 at $39. In either case, the PSD and fonts are included as well.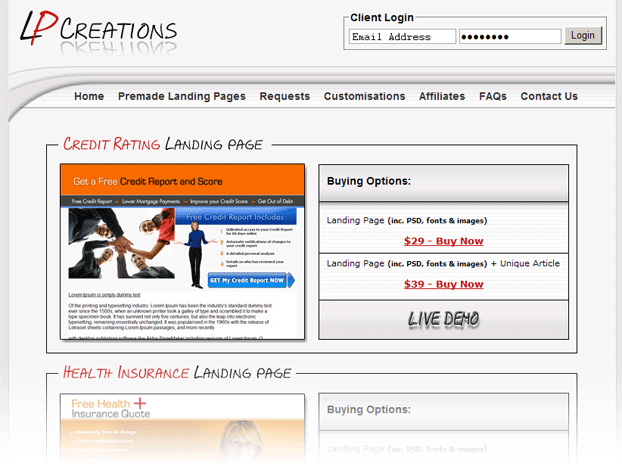 With only 8 landing pages to currently choose from, I cannot foresee many sales of the pre-made landing pages being made at the moment. LPCreations needs to get busy and provide at least 20-30 to cover most of the major niches out there, and preferably provide at least 2 different landing pages per niche.
The very idea of selling pre-made landing pages is a controversial subject as well. Many purchasers of landing pages are concerned with duplicate content penalties, or simply having a landing page that is already too saturated in their niche. For example, if 30 affiliates buy the Free Health Insurance landing page and are all competing in the same niche, a lot of visitors may have already seen the exact same landing page before and not click through.
This issue would be relieved, however, by simply offering a large amount of landing pages. By offering only 8, there is a 12.5% chance the next customer will buy the exact same landing page you just did.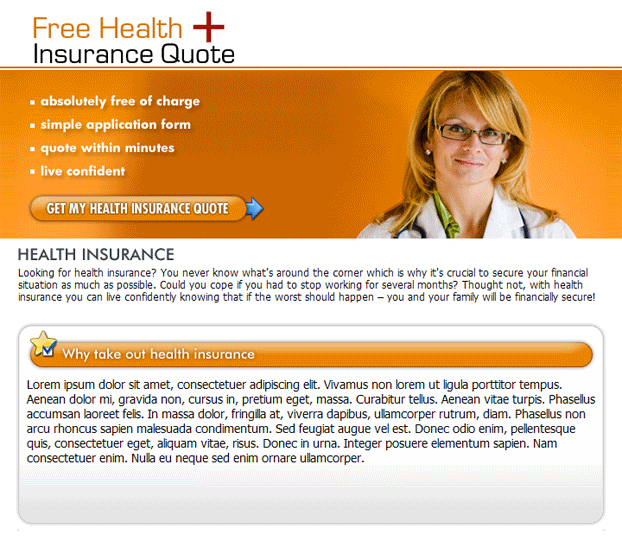 The landing pages themselves are pretty good. Again, as stated in my introduction, landing pages aren't award-winning designs, nor are they meant to be. If you're on a very tight budget and have decent design skills, then you could probably make these landing pages yourself.
However, for most people, $29 is not a lot of money, and in my opinion the time saved is definitely worth the small price. I consider myself a half-decent designer, but I'd still much rather pay for a landing page than make one myself. It would probably take me a few hours to design one landing page and code it, and to me, 2-5 hours is not worth saving $29 (that's a wage of $5.80-$14.50/hour. Considering I average between $50-70/hour ($100,000+ made in 2007, average of 4-5 hours per 365 days), this would not be an effective use of my time.
Therefore, it's worth it to buy a landing page.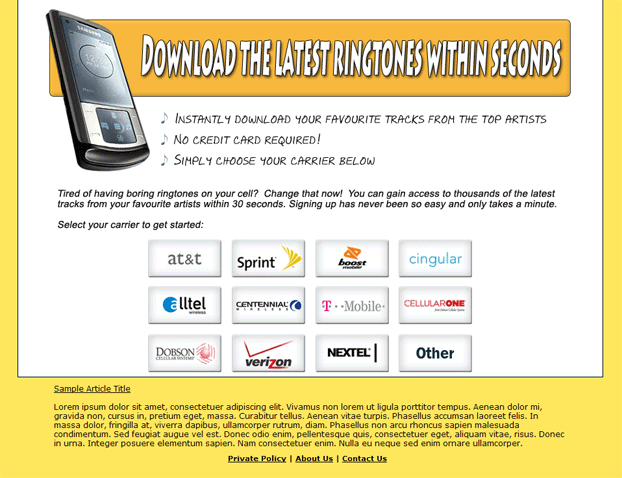 One thing I'd like to recommend is for LPCreations to change how they're currently showing their portfolio of pre-made landing pages.
Currently, in addition to a medium-sized screenshot on the front page, there is a Live Demo link for each landing page. This links to an actual working HTML page of the offer. To combat people from simply stealing the images, the HTML is ran through a Javascript encrypter to ward off any potential thieves.
However, this is far from secure. In fact, I was able to completely rip a landing page in approximately 10-minutes. The Javascript "encryption" may obfuscate things a bit, but it does certainly does not stop copying. I'm certainly not recommending any readers try to do this, as it would be stealing and it is of course illegal. I just wanted to bring this fact to their attention.
My solution? I recommend removing the "Live Preview" links and simply link to a large screenshot (800×600) of the landing page, and then to watermark the screenshot so people can't just splice it and code it themselves. I made a sample of one of their landing pages below: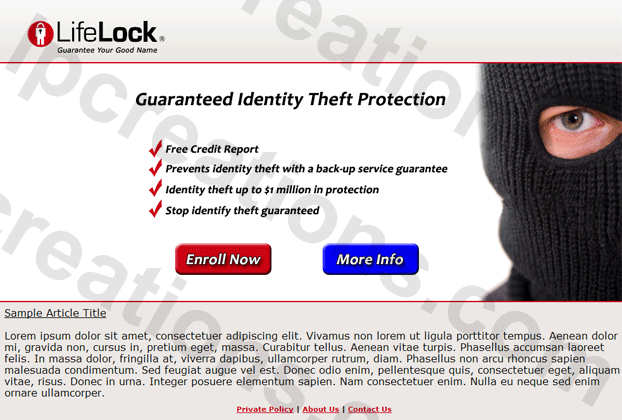 Special Deal for TylerCruz.com readers!
Use the coupon code TYLER-CRUZ when you order a pre-made landing page from LPCreations and receive a 10% discount!
Customizations
LPCreations offers a customization service in which you can request unique changes to any of their pre-made landing pages. The price depends on the type and level of customization, but I'd assume for the fee to be minimal since all the prices on the site are cheap to begin with.
On a side note, I'd recommend for LPCreations to fix the "Customisation" typos on the site. The main navigation bar misspells the word and it does stand out as an amateur mistake. While typos on a site where you're selling something is never good, when you sell unique articles as part of your service it only makes things worse.
Custom Landing Pages
In addition to pre-made landing pages, LPCreations also does custom landing page design. This is what I'd expect most people to use their service for instead of "sharing" their pre-made landing page with other affiliates. Getting custom-built things in general is almost always a good thing.
Each custom landing page is only $39. This is very cheap for a custom-made landing page that is coded for you as well. The turnaround time is generally 2-3 days, but may take longer depending on the current amount or orders.
Each custom landing page is never resold after being created.
The 3 custom packages they offer are:
Affiliate Program
LPCreations has an affiliate program which pays out a healthy 50%. This is a paid review so I'm not using any referral links, but if I did, I bet I'd have sold at least 4 landing pages would would have made me $78.
As you can see, their affiliate program is actually something you might want to consider signing up for and linking to so you have something to give someone the next time they ask you "Hey, do you know any cheap/good landing page designers?".
Summary
If you do PPC affiliate marketing, then you most likely already use landing pages, unless you're one of the rare ones who run exclusively direct-linking campaigns. LPCreations offers both pre-made and custom landing pages for very affordable prices, although their custom landing pages seem to be a much better value at only $10 for a custom/unique landing page.
If you're brand new to PPC affiliate marketing or plan on starting it soon, then you might want to remember LPCreations.com for when you do require a landing page.