February 18, 2008
Posted by Tyler Cruz
It's been 3 months since I last posted anything about my PublisherSpot.com website.
I get a lot of comments from readers wondering why I don't make posts about my websites like I used to back in the "old days". The truth is that I've been focusing mainly on my blog for the past year or so. It is my core project right now, and I think that a lot of people mistake my absence of website posts for failure or laziness. Running a blog is very hard work. Don't get me wrong, I love blogging to death, but it sure takes a lot of time and work to grow it.
Another reason for my complete lack of attention to my network of sites has been the departure of my long-time programmer. He has gone AWOL many times in the past, so I thought that he was going to return eventually, albeit late, as usual. However, I've finally given up on him now for the last time, and went to find a new programmer.

New Programmers
Well, I've now found a programming team, and to "test them out" I commissioned for them to do a few items from a long list of improvements for PublisherSpot I have written down in a Notepad file. I've had a tragic line of history with programmers, and am very pessimistic and cautious with them now, unfortunately.
But so far, these new guys seem pretty good. I spoke with one of the owners over the phone, had them sign an NDA, and so far they have been responsive and have given me regular progress updates. I'll let you know in the future how they pan out.
New Improvements and Features
As stated above, I have a long list of ideas and improvements for PublisherSpot, but I only commissioned for 4 of them to be done for now. If I like the programmers' work, I'll commission for more work to be done.
Here is what is currently being worked on:
Search Page Modification (Minor Improvement)
On both the Search page and the "Quick Search" area on the top-right of the site, there will be a new option to select "Any" and will be enabled by default. This way users won't be limiting their initial search to only networks rated 90% and lower. When "Any" is selected, the "higher" and "lower" radio buttons will be disabled for better usability.
Image Gallery Support (Major Improvement)
Screenshots will be added to all reviews. This not only "livens" up the reviews with some related photos, but also provides some useful references when showing screenshots of the control panels, for example.
It is labelled a major improvement because of the complexity and robustness of the administration area which will handle the image management within reviews.
Sortable Columns (Medium Improvement)
A very simple, but extremely useful improvement, the browse and search result pages will be sortable. Small up/down arrows will be added, which will sort the Network and Rating by ascending and descending order.
It's a basic improvement, and nothing groundbreaking, but it's amazing how a small improvement like this can improve a site's functionality and usability by leaps and bounds.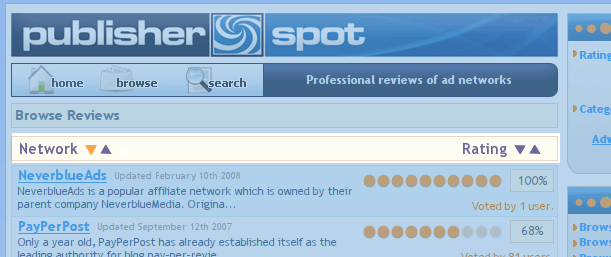 [COLOR] BBCode (Bug Fix)
Reviews of ad networks are written with BBCode in the administration area, however the BBCode [COLOR] was not working. This will be fixed.
It is not of a big importance, and will rarely be used, but there are situations where a red colour is warranted.
More Networks
I managed to write a few more reviews to the site, which is no small task. The average review on PublisherSpot takes me around 8 hours to write. I have to first research the site, take notes, and test their ads and support. I then organize my notes, create a structure for the review, write a rough draft, and then write my finished copy and polish it up.
Due to the time constraints it takes to review just one network, I hired a talented writer who is knowledgeable with ad networks and is able to keep up with the high writing and reviewing standards I have for the site. With his help, PublisherSpot has added 8 more reviews of ad networks, making a total of 29 ad and affiliate networks reviewed on the site. Soon, all the major ones will be complete.
Income Report
In my past PublisherSpot Update posts, the main focus was usually on its income. Unfortunately though, I won't be able to give regular updates on its income anymore for three main reasons.
First, there are now 29 networks. This means that I have to log into each one individually, grab grab the referral data, and enter it into my Excel spreadsheets. This takes a fair bit of time to do, and will only get harder as our database continues to grow.
Secondly, many networks do not give detailed reports; many only give a total referral and balance count. This means that I am not able to track monthly signup's or income unless I tally this on the same day each month. This is what I originally did, but won't be able to do as, again, our database grows.
Lastly, I'm not providing an income report because there is not much income to report! If I had to guess, I'd say that PublisherSpot signs up around 50 new referrals each month, and makes about $50. I've put a lot of time and money into PublisherSpot, so hopefully it will bring in better numbers soon.
Marketing and Advertising Efforts
Once my programmers finish the four tasks I set out for them, I'll be purchasing my 3rd review of PublisherSpot on JohnChow.ca.
I like to buy new reviews on JohnChow whenever I get a significant amount of improvements and new reviews done to PublisherSpot, so that readers are constantly reminded about the site, and can see that it is not being neglected and is always improving.
In addition to JohnChow, I'll probably splurge and purchase paid reviews on a few other medium-big blogs as well.
Suggestions and Requests Welcome
While I have a big list of ideas for improvements already, I'd love to hear your own ideas and suggestions as well. How can I improve PublisherSpot?
Also, if there is an ad network you'd like to see reviewed, or you simply know of any that we're missing, please let me know. I'll be sure to have them reviewed!