February 20, 2011
Posted by Tyler Cruz
I'm a few days late in posting this, but here's an update on my SEO rankings for the 8th month.
I know that a lot of you really look forward to this SEO case study series, even if it is only once a month. I look forward to it too. I still, without fail, run RankTracker manually every night at 12:01am to see what improvement (hopefully) my sites show in rankings. It's one of the small things I look forward to everyday. You can also follow this Guide to Self Storage SEO as it would be a worthwhile investment we got to work .
Month 8 of my SEO efforts (efforts being paying other people and checking my stats) saw very mixed results due to Google Ad strategy for new leads, which makes it very difficult in deciding whether to keep my current SEO freelancer or hire a different one.
I started these SEO case study reports back in mid-November of 2010, and now provide monthly updates on how my various SEO campaigns are faring.
If you haven't seen them already, you can view the previous months here: Month 5 Results, Month 6 Results, and Month 7 Results.
If you want to skip all the details and get straight to the results, scroll down to the last image, as it gives a fantastic overall summary of last month's results.
SEO Firm Keywords are Taking Off
In my last couple of updates, I briefly mentioned how I hired a SEO firm for a couple of new keywords.
The 2 keywords are for my movie site and are EXTREMELY competitive, with a combined total of nearly 6 million exact searches on Google each month.
I've only been using them for around 3 months now, but yesterday my 2 keywords with them were ranked #119 and #270 (dropped out of top 1,000 today) on Google! That may not sound too great, but remember how competitive they keywords are, and it has only been 3 months so far. I'm really interested to see what happens in the next month.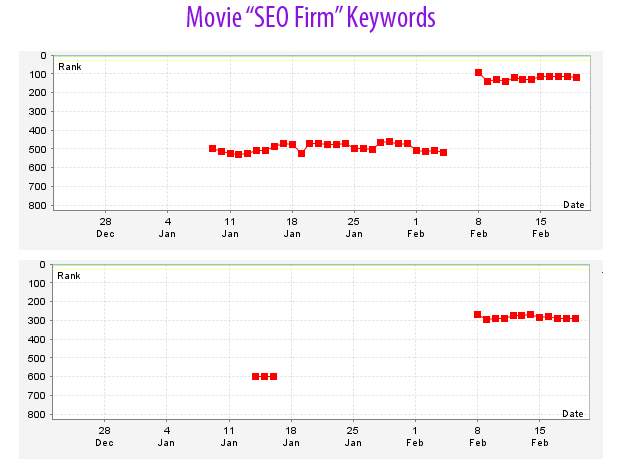 Remember that with this company I don't have to pay them anything until I'm in the top 30, so it's pretty much risk-free.
I know that I've been promising to write a blog post revealing what this company is, and I will keep that promise. Just give me a little bit more time… I'll have it up soon, I swear!
Month 8 Update
Just a reminder that I am currently tracking 13 keywords across 2 search engines, so I won't be able to focus on every single keyword, and will instead focus only on the ones that show the most change (good or bad).
First off, apart from my 2 SEO Firm keywords, my other 2 movie keywords did poorly during the past month, dropping 13 and 9 spots on Google. What sucks is that I've basically been hovering around the same rank since I hired my SEO freelancer 8 months ago.
When I asked him about this he said that it's because there are now more websites in the index for my targeted terms – which is true, and my keywords are competitive, but I don't know how much longer I can keep paying for this non-improvement on my movie site.
Fortunately, my affiliate keywords fared better, and those actually matter more since they bring in direct income.
One of my keywords (graph below), saw good improvement, slowly and steadily climbing. Such a consistent gradual improvement is rather rare in SEO, from what I have witnessed so far. Usually, improvement has more of a staircase effect. Today, I saw a new record for this keyword, hitting #6 on Google. If I can make it to #1, I should be able to make good money off this keyword. Here's hoping.

The following keyword is my main keyword. It's not the best targeted, but has good traffic. I didn't set a new record this month, but the good news is that I came close, only 5 spots off a new record. I'm still going to need to hit at least second page before I can see any traffic from this keyword though:

A few days ago, this keyword set a new record, hitting 16th spot on Google, but dropped down a bit since then. This was my best converting keyword by far when I ran this campaign on PPC, and it gets decent traffic, so if this keyword can get into the top 5, I should be able to make good money from it:

SEO Income
In month 6, my affiliate site brought in 5 leads from SEO efforts, each worth approximately $60, making a total of roughly $300. In month 7, it brought in only 1 lead.
Last month, month 8, it brought in only 2. That means that the site only brought in around $120, putting me in the red again this month.
But SEO is an investment, and I'm hoping for things to improve in month 9. I've actually been checking my PeerFly stats numerous times a day lately to check if a new lead has come in since I'm beginning to rank well for a few keywords now.
Overview Chart
I've said it many times now, but I'll say it again: I absolutely love RankTracker. I wouldn't be able to track my keywords and improvement over time anywhere CLOSE to as well as I do now without it. I know, because I struggled to before I bought it.
Watch my (already dated) screencast review of them here (they've already come out with many new features and improvements since I did that video). If you're doing ANY SEO at all, you'll love this piece of software. I know I do.
Below is an overview chart of the rank changes on both of my sites from both 1 month ago and 3 months ago, as compared with today: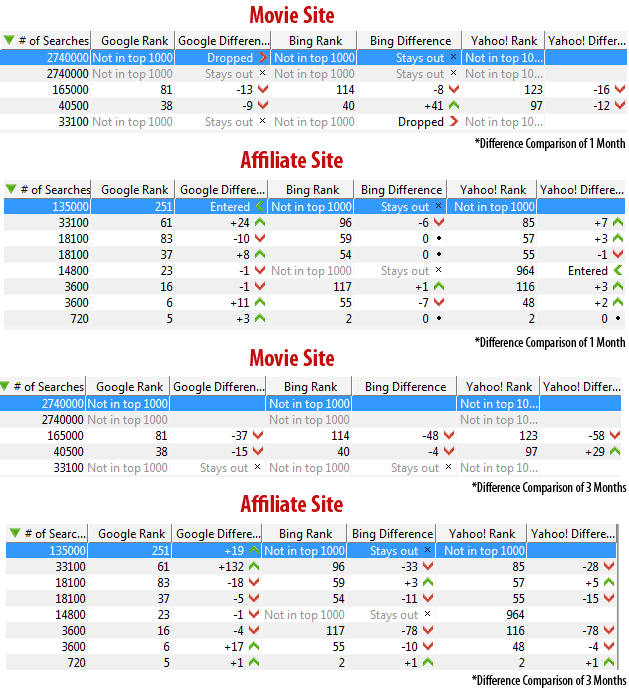 In my next update, I may be able to show the difference of 6 months instead of 3, as I think I'll have been using RankTracker for that long by them.
I also just sent in a request for them to allow me to select an exact date rank when comparing improvement.
Stay tuned for my next SEO Case Study update post to see how my rankings improve (hopefully)!
Posted: February 20th, 2011 under SEO