About Me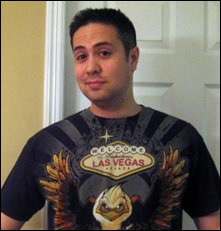 My name is Tyler Cruz and I've been making a living online for the past 10 years now. I'm an affiliate marketer, web entrepreneur, blogger, and all-around nice guy.
I make a comfortable living from the Internet through a number of means, but have focused primarily on affiliate marketing over the past 2-3 years. I also run Merendi Networks Inc. which owns and operates several dozen websites including this blog and occasionally dabble in other online entrepreneurial areas such as domain and website flipping.
I am in my early 30's (wow, when did that happen?) and reside in Nanaimo on the beautiful island of Vancouver Island in British Columbia, Canada.
What's Your Blog About?
TylerCruz.com chronicles my day-to-day operations as a web entrepreneur and someone who makes their living entirely from the Internet.
The blog has evolved over time as my goals have changed. In the beginning, I blogged about my network of content-based websites and how I monetized them. I then focused more on professional blogging and blogging tips in general. And most recently my blog has been very focused on affiliate marketing. I am currently thinking about getting into the investment property game, so my blog may adapt to include that as well. One thing will remain the same though – it will always focus round making money.
Post topics range from affiliate marketing income reports, in-depth articles, inspirational and motivational posts, blogging tips, contests and competitions, guest posts, reviews, and the occasional personal post.
While categorized as a "make money online" blog, I've never proclaimed myself as a guru or expert in this field, even though other sources may label me as such. In fact, throughout my blog's 9-year-history, I've never sold a single e-book, product, or course (even though many people have asked me to!).
While I do share tips and try to help others make money online, my blog is and always has been about my personal journey to wealth.
Full Time Blogger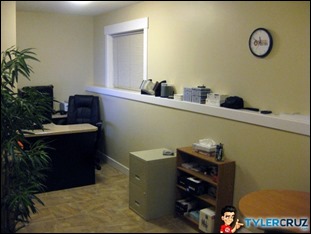 I first created my blog in the fall of 2005 after a popular thread I created on a large webmaster forum I frequented at the time sparked numerous requests for me to create my own blog.
9 years and 1,037+ blog posts later, I'm still blogging along.
However, while my blog has made me some nice cash over the years, it is not my primary source of income (although it did come close there for a while). Instead, my main source of online income stems from affiliate marketing.
That being said, blogging certainly takes up a good portion of my working time!
How Much Do You Make?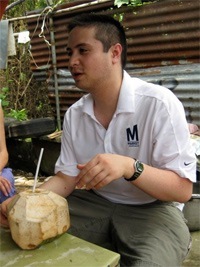 Due to the fast changing pace of the Internet and being an entrepreneur, my income is always shifting. Affiliate marketing is especially volatile. For example, in April 2014 my campaigns netted a total of $336.55. The next month, May 2014, brought in a total of $18,249.99 profit.
In 2013, my campaigns generated a total of $258,859.68 profit, and my overall average month net profit over the past 17 months works out to $17,546.77.
My web income has allowed me to purchase a new car at 21, my own condo at 23, and finally a house with my girlfriend at age 30. I am currently entertaining the idea of investing in a multiplex.
At the end of the day though, I make enough to live a modest and comfortable life. I'm not super rich, but I'm not poor either.
What's important to me is that I work for myself. I have no boss to impress and no clients to suck up to, and can work from the comfort of my own home.
You're a CEO?
Technically, yes. In March of 2008 I founded the corporation Merendi Networks Inc. and basically handed all of my online ventures over to it mainly for tax and legal reasons. I am the Founder and CEO of the corporation, but I still work in a T-shirt and am the only employee!
Career Highlights & Accomplishments
Some of the more notable highlights & accomplishments I've encountered throughout my online endeavours include:
Generating $1,000,000+ in revenue from affiliate marketing
Grossing $142,606.00 and netting $52,447.17 profit in June 2013 (my personal best so far)
Earning $258,859.68 profit from my affiliate marketing campaigns in 2013
Grossing $7,097 from my affiliate marketing campaigns in a single day
Netting $3,099.99 profit from my affiliate marketing campaigns in a single day
Netting $300,000 from owning and operating a poker site and then selling it
Flipping a gaming site for 600% ROI, turning a $2.3K investment into $16.5K
Brokering a domain name for $200,000
Launching PublisherChallenge; 5 months later site members generated over $1,000,000
Earning over $100,000 from my blog
Expanding Movie-Vault.com into the world of Hollywood by attending world premieres and red carpet events, providing video coverage and interviews of celebrities such as Tom Hanks, Jack Black, Katherine Heigl, Sam Worthington, Michael Bay, Helen Mirren, John Hurt, Drew Barrymore, Justin Long, Sylvester Stallone, Dolph Lundgren, Jason Statham, and even Justin Bieber 😉
Gaining friends and acquaintances with some of the top players in the industry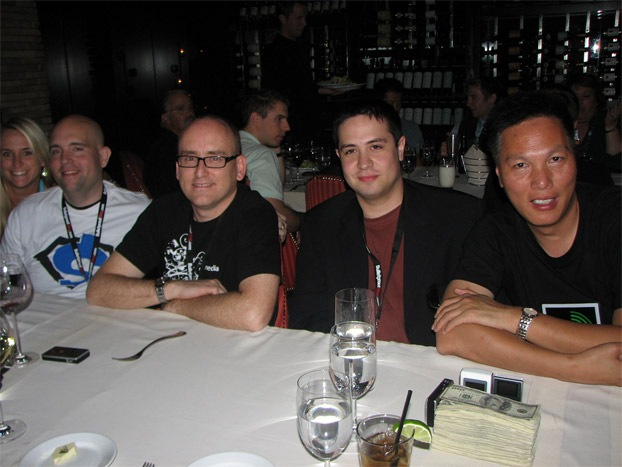 Jeremy Schoemaker, Darren Rowse, myself (Tyler Cruz) and John Chow at BlogWorld 2008
What Are Your Hobbies and Interests Outside of the Internet?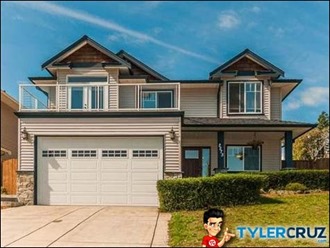 While making money online is actually one of my favourite pastimes, getting immersed into a good video game is a close second. I absolutely love gaming.
Some of my current favourite computer games are DOTA 2, Hearthstone, and the upcoming Dragon Age 3.
I love watching a good movie or TV show (Family Guy, Bob's Burgers, True Detective, Downton Abbey, etc).
I also cannot get enough badminton, and play at a few clubs in my city 2-3 times a week, which is always very enjoyable.
More recently, I got a golden retriever named Zipper who is a real handful, but awesome. Here he is doing some tricks!
I live in the house pictured above with my girlfriend and Zipper, and we're probably upstairs in the kitchen right now scolding him for stealing something off of the counter or table.