August 15, 2008
Posted by Tyler Cruz
Time flies when you're making money, and my Affiliate Marketing Challenge 2 has already come to a finish. It was a huge success and as always, a blast to run. I kept an extremely close eye on the rankings, and hope those who entered had as much fun participating as I had running it.
For those who are not sure what my Affiliate Marketing Challenge was all about, check out my original post.
I'd like to thank everyone who participated for entering, and especially thank MarketLeverage for sponsoring the competition. After all, without them, there would be no contest!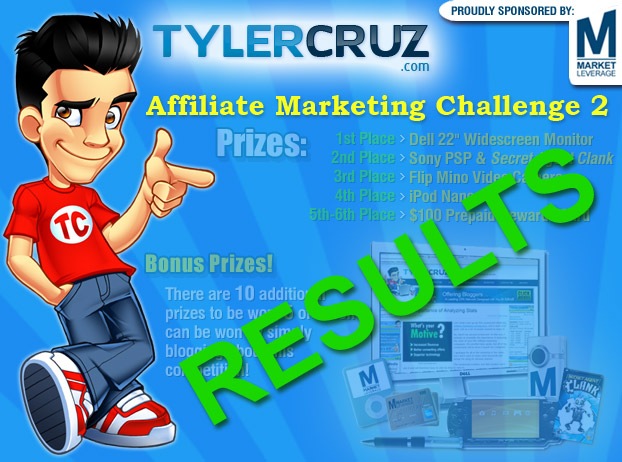 Winners
While there were a lot of participants who registered, the prizes were limited to the the top 4 earners. Here are the official winners and their prizes:
Top Grossing Affiliates
1st Place: CD8470 – $19,052.20
Prize: Dell 22″ Widescreen Monitor with Built-In Webcam

It's official. CD8470 has now won back-to-back Affiliate Marketing Challenge competitions and remains the undefeated champion. He managed to completely dominate the competition with a staggering $19,052.20. That works out to just shy of $600 per day.
To reward his efforts, he'll be receiving his Dell 22″ Widescreen Monitor in the mail soon. It should go nice with the 8GB iPod Touch he won from the previous competition.
Will CD8470 go 3 for 3 and win my next competition as well? Can anyone even get close to this monster?
2nd Place: CD9189 – $6,770.40
Prize: Sony PSP + Secret Agent Clank

A big congratulations goes out to CD9189. He managed to securely win 2nd place even after entering the competition a week late. It just goes to show that you can enter the competition at any time and still win a great prize.
While CD9189 finished a fair bit behind CD8470, he did enter the competition late. It will be really interesting to see how these two fare in my next competition.
CD9189 will be receiving his 2nd place trophy in the form of a Sony PSP and Secret Agent Clank game. Now he'll have something to play inbetween working on his affiliate marketing campaigns.
3rd Place: CD9050 – $1,863.00
Prize: Mino Flip Video Camera

CD9050 managed to play a consistent game, finishing in 3rd place. This was his first time competing in one of my affiliate challenges like CD9189, so it was a very good result.
To reward his efforts, he'll be receiving a Mino Flip in the mail soon. These things are extremely sought after. I have a Flip Ultra but already want the Mino as well.
Who knows? Maybe he'll record some of his secret ninja affiliate marketing strategies for us 😉
4th Place: CD8269 – $1,655.45
Prize: iPod Nano

This guy is crazy. I need to give him the moniker of "The Rocket". Last competition, he came out of nowhere to finish in 4th place.
And guess what? Yes, this time he came out of nowhere again to once again finish in 4th place. If you look at the standings from just a week ago you'll notice that he isn't even on the scoreboard at all.
So, this guy definitely has something up his sleeve that he can pull to get himself some quick traffic or results. The real question now is: why doesn't he take it one step further to place higher?
Whatever his reasons, he'll be receiving a trendy iPod Nano in the mail soon.
5th Place: CD8137 – $1,239.00
Prize: $100 Prepaid Rewards Card

The Tortoise, as I call him, managed to once again place in this competition. He's always been slow and steady, and you can almost predict to within $25 where he will end up finishing with.
While he may be predictable and slow, he's finished in the leaderboards of both competitions, so his methods do work.
He'll be receiving a Prepaid MarketLeverage and Visa Rewards card for $100 soon.
6th Place: CD8346 – $1,092.70
Prize: $100 Prepaid Rewards Card

I'm thrilled to see CD8346 manage to hold onto 6th place to finish on the leaderboard! Last competition he worked hard, only to lose right near the end to CD8269 (who placed 4th in this competition), and ended up not winning anything.
So, it's great to be able to send him a $100 Prepaid Rewards Card this time around. Hopefully he can improve again next competition.
Top New Affiliates
The top 5 new affiliates, those who signed up to MarketLeverage under my referral link after the first competition, are as follows:
1st Place: CD9189 – $6,770.40
2nd Place: CD9050 – $1,863.00
3rd Place: CD9618 – $473.40
4th Place: CD9475 – $208.80
5th Place: CD9506 – $129.60
Each of these winners will receive a 2.0GB USB MarketLeverage Pen in the mail shortly. Congratulations!

Blog Winners:
Lastly, here are the 5 lucky winners taken from a random drawing. In total, there were 13 bloggers blog posters who blogged about my competition.
Each of these winners will receive a 2.0GB USB MarketLeverage Pen in the mail shortly. I have e-mailed each of the winners to send me their address details.
Final Rankings
It's hard to believe it's already been a month since the competition begin.
I've now referred a total of 84 affiliates to MarketLeverage, 25 of which signed up during this current competition.
Together, they generated a total of $34,076.75 in commissions. The final standings are shown below (only those with earnings of over $100 during the competition are shown, for the sake of my own sanity):
Top Grossing Affiliates
Rank
Participant

Earnings

1st
CD8470 "The Behemoth"
$19,052.20
2nd
CD9189 "The Newcomer"
$6,770.40
3rd
CD9050
$1,863.00
4th
CD8269 "The Rocket"
$1,655.45
5th
CD8137 "The Tortoise"
$1,239.50
6th
CD8346
$1,092.70
7th
CD8036
$672.65
8th
CD9618
$473.40
9th
CD8467
$316.60
10th
CD8088
$215.40
11th
CD9475
$208.80
12th
CD9506
$129.60
Combined Total (all referrals):
$34,076.75
Top New Affiliates
Rank
Participant
Earnings
1st
CD9189 "The Newcomer"
$6,770.40
2nd
CD9050
$1,863.00
3rd
CD9618
$473.40
4th
CD9475
$208.80
5th
CD9506
$129.60
Combined Total (new sign-ups):
$9,522.80
Wow. While I did not meet my side goal of signing up a total of 100 referrals, I completely shattered my main goal of having the competition generate a total of $15,000. In fact, we doubled it!
To date, my referrals have generated a total of $43,399.00. And I only signed up to MarketLeverage in early June! If we estimate that ML makes 15% commission on average, that's $6,509.09 profit I've made them in only two months so far.
What's nice to see is that new sign-ups during this competition managed to generate $9,522.80 – proving that the competition is bringing in new affiliates who are generating good income themselves. It is not just the original referrers.
Thank You Market Leverage!
This competition would simply not have been possible without the massive support of MarketLeverage. They are putting up all the prizes, not me. Thanks a lot ML, we really appreciate it!
Affiliate Marketing Challenge 3
That's right! Since both of my Affiliate Marketing Challenges were huge successes, MarketLeverage and I will be running a third competition.
My goal for my Affiliate Marketing Challenge 3 is for my referrals to generate a total of $45,000. I also hope to attain the 100 referral milestone as well.
It will launch on September 1st to make logistics easier, as well as give me time to prepare for it since it's so big! It will be bigger than ever, with bigger and better prizes – some of them are absolutely insane! So mark your calendars, because you're not going to want to miss this one.
Posted: August 15th, 2008 under Contests