September 30, 2008
Posted by Tyler Cruz
Note: The results of the Affiliate Marketing Challenge 3 will be posted on October 2nd.
It's already October, and what better way to start a new month than to start a new contest?
That's right! Due to the huge successes of our first three affiliate marketing challenges, MarketLeverage and I have joined together once again to bring you the Affiliate Marketing Challenge 4!
There is over $10,000 worth of prizes up for grabs ($10,700 to be exact) including a 52″ 1080p HDTV, Alienware computer package, 24" Widescreen Monitor, and 8GB iPod Touch to name a few.
Whether you're a super affiliate, medium affiliate, or brand new to affiliate marketing, we have prizes aimed just for your skill level. We even have prizes for bloggers who post about this contest, so everybody is eligible to win a prize as long as you either do affiliate marketing or have a blog.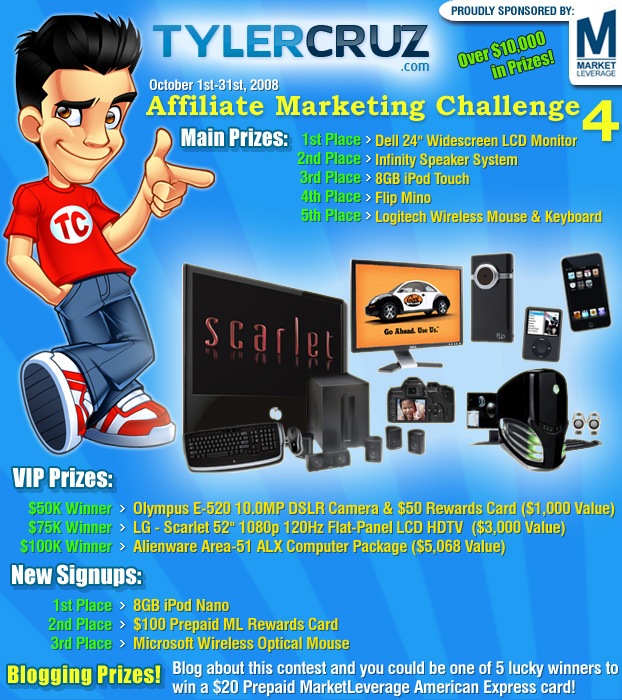 Overview
The competition runs from October 1st (12:00AM Eastern time) to October 31st (11:59PM Eastern time).
However, the earlier you register, the more time you have to start making some dough and the better your chances, so the sooner the better!
The process of the challenge is simple: publishers register to MarketLeverage under my referral link and then proceed to make as much money as they can until competition ends on October 31st.
There are also some additional prizes that can be won by simply blogging about this competition.
How to Participate
There are two different ways to participate in the competition. You may choose either method, or do both. However, the best prizes are only available in the "Earn the Most" method:
Earn the Most: Main Prizes: Compete with others to earn the most (or top 5) in commissions from Market Leverage.
Sign up to MarketLeverage through my referral link by clicking here. It is very important that you register under my referral link or you will not be eligible. If you've already registered to ML previously, then you are unfortunately not eligible to participate as I cannot track your generated revenue.
Approve your account by phoning ML or having them phone you (don't worry, they're real nice!).
Earn as much as you can!
At the end of the challenge, if you generated one of the top-5 amounts in commissions, you win one of the corresponding prizes!
Earn the Most: New Signups: 
If you signed up to MarketLeverage through me just for this competition, you are eligible for the New Signups prize category as well. As long as you finish amongst the top 3 revenue earners for new signups, you win a prize.
If you are a new signup, you are eligible to win prizes from both the New Signups category and the Main or VIP categories if applicable!
Earn the Most: VIP Category: 
If you're a super affiliate who can generate big numbers, then you are eligible for the luxurious VIP prizes. You will need to generate at least $50,000 a month in order to be eligible.
There are three tiers. If you generate enough to hit a certain tier and finish as the highest in your tier, you win the corresponding prize for that tier.
The tiers are as follows:
$50,000-$74,999
$75,000-$99,999
$100,000+
Note: Once you generate over $50,000 you are only eligible for the VIP prizes and not the main prizes. Therefore, you cannot win a prize in both the Main Category and VIP Category.
Write a Blog Post: Simply write a blog post telling others about this competition on your blog.
It's as simple as it sounds. Write a blog post (an entire post, not a small mention in another post) about this competition, being sure to link back to it.
Contact me with the URL of the actual post, being sure to provide your e-mail address. Please do not comment on this post saying you wrote the post; contact me through the contact form instead.
A drawing will be taken at the end of the contest, and 5 random winners will each receive a $20 Prepaid MarketLeverage Rewards Card.
VIP Prizes
$100,000+ Tier: Alienware Area-51 ALX Computer Package

This is no ordinary computer. It's a beast. With the 24-inch monitor we're throwing in (as well as top-of-the-line peripherals such as wireless mouse and keyboard, etc.) it's priced at over $5,000.
It would be futile to demonstrate just how sexy this machine is, but here are a few quick specs:
Processor: 45nm Intel "Penryn" CPU architecture
Intel® Core™ 2 Extreme (12MB Cache, 1333MHz FSB)
Memory: Up to 4GB Dual Channel DDR3 at 1600MHz
Video Card: 1GB ATI® Radeon™ HD 3870 X2 – Dual GPU (or 2GB ATI® Radeon™ HD 4870 X2)
Hard Drive: 7200 RPM – up to 32MB cache and 1TB storage
For full details of this machine, check it out on the Alienware website.
$75,000-$99,999 Tier: LG – Scarlet 52″ 1080p LCD HDTV  
I've been waiting a long time to be able to give away a big screen TV, and am happy to finally be able to.
The LG "Scarlet" TV is a highly-acclaimed HDTV which you may recognize from its fairly recent debut in television commercials.
Here are some specs:
52″ measured diagonally
Built-In HDTV Tuner
1080p display provides the highest-quality progressive-scan picture possible
16:9 widescreen aspect ratio and 6 selectable viewing modes, including 24p Real Cinema
For full details, check it out on the BestBuy website.
$50,000-$74,999 Tier: Olympus E-520 10.0MP DSLR Camera   
Full featured and ready to go anywhere. Anyone who loves photography will love this camera. With enhanced In-body Image Stabilization to eliminate blurring, the Olympus E-520 is designed for advanced users who demand spectacular images. This light, compact DSLR gives you plenty of creative freedom, especially with lighting.
The camera comes with the Evolt 14mm-42mm Lens Kit and the Olympus 40mm-150mm f4.0-5.6 ED Lens.
Here are some specs:
10 Megapixels
Retractable Flash
2.7" LCD Screen
28mm-84mm Lens
Lithium-Ion Rechargeable Battery
For full details, check it out on the BestBuy website.
In addition, we're throwing in a Prepaid $50 MarketLeverage Rewards Card!
Main Prizes
1st Place: Dell 24" Widescreen LCD Monitor
 
A couple weeks ago I bought a new computer which came with a 24" widescreen monitor. I previously used a dual 19" setup, and thought that the 24" might be a bit overkill. I admit, it took a couple days to get used to the huge size, but now there's no way I could ever use anything less.
The sheer size of the monitor and resolution lets you see so much more that you might be amazed just how much more productive you will be. In fact, it's been proven now that a larger monitor directly contributes to higher productivity and efficiency.
Here are some spec details:
24-Inches of glory
Max resolution of 1920 x 1200
1000:1 Contrast Ratio
Tilt Stand
5 ms response time
For full details, check it out on the BestBuy website.
2nd Place: Infinity Speaker System
The Infinity Total Solutions TSS-450 is a complete multi-channel music and home theatre loudspeaker system. With their compact and versatile design, the satellite speakers can be placed virtually anywhere – on shelves, or mounted on a wall. The centre speaker brings out the dialogue, while the powered subwoofer provides the foundation of impact and excitement when watching movies or listening to music.
Here are some spec details:
Metal Matrix diaphragm drivers for wider, more distinct sound
Compatible with 10 – 100 Watt receivers
4 satellite speakers, 1 dual-driver centre speaker and 1 8" 100 Watt powered subwoofer
Stiff aluminium core conducts faster than paper for a tighter response
Magnetically shielded so they won't cause any interference
For more details, check out the BestBuy website.
3rd Place: 8GB iPod Touch
This sexy new line of iPod's has multi-touch technology, Wi-Fi, and can play smooth high resolution video to name but a few of it's many features.
Here are some more spec details:
Can hold up to 10,000 photos, 1,750 songs, or 10 hours of video
Comes with earphones, dock adapter, USB 2.0 cable, and polishing cloth
3.5-inch LCD display
640×480 video resolution
For more details, check out the Apple iPod Site.
4th Place: Flip Mino Video Camera
Due to the huge popularity and interest that readers have shown in the Mino Flip, we've brought it back!
The Mino Flip is the latest line of Flip Video cameras. It is smaller, better, and simply overall sexier than both the original Flip and the Ultra.
In addition to being smaller and having new features such as pause/fast forward/rewind buttons, it also sports a rechargeable lithium ion battery (compared to the double AA batteries the original Flip and Flip Ultra use).
Here are some more spec details:
Built-in flash memory holds up to 60 minutes of high-quality video
Rechargeable lithium ion battery power
Start recording within 3 seconds of power-up
1.5" color high-brightness (transflective) display
More details can be found on TheFlip's website.
5th Place: Logitech Wireless Mouse & Keyboard

The Logitech Cordless Desktop LX 710 maximizes your digital music and photo experience. Enjoy handy one-touch controls for music playback and photo editing, plus direct access to advanced features of Windows Vista such as document flip
For more details, check out the BestBuy website.
New Signup Prizes
1st Place: 8GB iPod Nano

The iPod nano now comes in nine vibrant colors and a new curved aluminum and glass design. The crisp, bright picture makes watching movies and TV shows amazing.
Thanks to the built-in accelerometer, you can rotate iPod nano to flip through album art with Cover Flow. Watch movies and TV shows in widescreen. And view photos in either portrait or landscape.
Just give iPod nano a shake and it shuffles to a different song in your music library.
Here are some more details:
2-inch LCD screen
Includes earphones, USB2.0 cable, and dock adapter.
Holds up to 7,000 photos, 2,000 songs, or 8 hours of video.
Built-in rechargeable lithium ion battery
Check out more details on the Apple iPod Site.
2nd Place: $100 Prepaid ML Rewards Card

This MarketLeverage American Express Rewards card is prepaid with $100 and can be used just like any other credit card, only it is prepaid and can be thrown away when emptied. Think of it as a throw-away credit card (only don't throw it away until you've spent it all!).
Treat yourself and a friend to a real nice dinner, buy a domain and hosting for a year, or buy a couple new games for yourself – it's your money so do what you want! But we encourage you to spoil yourself a bit and treat yourself to something nice.
3rd Place: Microsoft Wireless Optical Mouse
    
The Microsoft Wireless Optical Mouse 2000 features High Definition Optical Technology for greater precision and response. Work in comfort with this ergonomically designed mouse – with no software, it's easy to set up and use. It also offers wireless freedom and long battery life for greater convenience and fewer interruptions.
For more details, check out the BestBuy website.
Blogging Prizes
5 bloggers who post about this competition will be chosen randomly by drawing and will each receive a $20 Prepaid MarketLeverage Rewards Card.
More Information
I will be making regular updates to the current competition rankings on the "Affiliate Challenge" section located on the top right column of my blog. This will let you know how far behind (or ahead!) you are from the leaders. I've recently improved this section to show the top new affiliates as well.
Your name or personal contact information will never be posted on the site. I don't even have access to it if I wanted to (MarketLeverage can still ship the winner's prizes as they have access to it). I will state your earnings and CD#, but those are completely safe to disclose.
The challenge only tracks participant's income during the contest's timeframe, so nobody will have a head start on you.
You will only be competing against other publishers who are signed up under my link, not against all of MarketLeverage's publishers. This dramatically improves your chances of winning a prize.
Now go make some money!
I strongly urge everyone to participate in this challenge. The prizes alone should be enough incentive for you to join, but on top of that, this competition is a very good way to get started in affiliate marketing and put positive pressure on yourself to improve your earnings.
I've heard from a couple people who participated in the first Affiliate Marketing Challenge who said that the competition helped make them try harder and work on their campaigns more.
And, of course, you'll keep all your profits you generated from MarketLeverage.
My personal goal for this competition is for the total amount of commissions to hit $65,000. The last competition brought in just over $60,000 so it's definitely doable. I know you guys can do it!
I look forward to seeing how this challenge progresses and hope to see a lot of you participate.
Good Luck!
Posted: September 30th, 2008 under Contests
46 Responses to "Affiliate Marketing Challenge 4"