September 1, 2013
Posted by Tyler Cruz
Hello again!
First, the mandatory apology:
The only post I wrote in August was actually my affiliate marketing income report for July. Despite my lack of posting, I've definitely been working. In fact, I can't remember the last time I took an entire day off from not working at all. Hell, yesterday was my birthday and I still put in some hours of work in.
As you'll read about shortly, August was my worst month this year… by far. As a result, I was focused more on trying to keep a profit going on my campaigns and performing triage than I was on publishing new blog posts.
So, that explains my lack of posting.
Here then, are my affiliate marketing numbers (not inclusive of my other revenue sources) for the month of August 2013:
August 2013 Affiliate Campaign Income:
$38,702.00
Ugh. From $142,606.00 in June to $64,950.00 in July to $38,702.00 in August. What's next? $2,500 in September?
Expenses:
$30,127.02
Traffic Source Breakdown:
Traffic Source #1: $6,007.63
Traffic Source #2: $2.60
Traffic Source #3: $9,735.47
Traffic Source #4: $14,381.32 
At least my expenses were the lowest I spent all year…
Net Profit:
$8,574.98
I can't tell you had embarrassed I am to have to post these numbers, after having so many better months this year.
But the whole point of these income reports is to share my results with you, whether that be good or bad. Affiliate marketing is a roller coaster ride as you can see, and I can't expect the ride to keep climbing without ever seeing some drops.
In fact, there's actually some good news to come out of this. More on that later on.
My ROI dropped dramatically in August as well, from 70% the previous month to a measly 28%.
Year-To-Date Affiliate Marketing Results
Despite seeing concerning drops the past 2 months, 2013 has still been a great year for me overall so far. In fact, it'll be pretty hard for it to to lose that standing… the only way I see that happening is if I start pulling in some red months.
Here's a monthly breakdown:
| | | | | |
| --- | --- | --- | --- | --- |
| Month | Gross | Expense | Net | ROI |
| January 2013 | $74,277.30 | $50,927.39 | $23,349.91 | 46% |
| February 2013 | $103,961.00 | $72,516.36 | $31,444.64 | 43% |
| March 2013 | $83,204.00 | $49,320.34 | $33,883.66 | 69% |
| April 2013 | $98,526.50 | $64,892.30 | $33,634.20 | 52% |
| May 2013 | $104,600.50 | $64,402.12 | $40,198.38 | 62% |
| June 2013 | $142,606.00 | $90,158.83 | $52,447.17 | 58% |
| July 2013 | $64,950.00 | $38,258.85 | $26,691.15 | 70% |
| August 2013 | $38,702.00 | $30,127.02 | $8,574.98 | 28% |
| Total: | $710,827.30 | $460,603.21 | $250,224.09 | 56% |
| Monthly Average: | $88,853.41 | $57,575.40 | $31,278.01 | 54% |
Man… August is such a blemish in my otherwise nice looking table.
It's funny… because I had thought July was a horrendous month, but now it looks like so much compared to last month.
Net Profit Projections
The following linear projection is based off the past 8 months of data, and is projected for the next 4 months: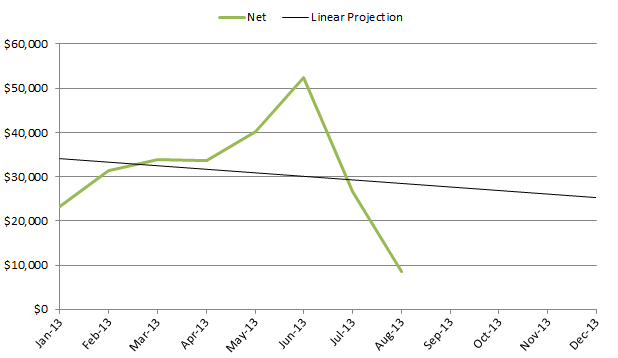 For the first time, the linear projection is on a DECLINE. That's no good. Anyhow, rough projections show that December 2013 may bring in $25,000 profit.
Now let's take a look at the running net profit total from my campaigns this year so far: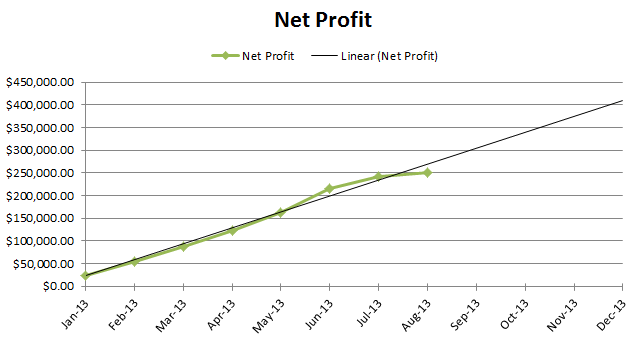 So this year so far, I've made $250K from my campaigns, and this time the projection is set for the end of the year. The linear projection predicts that I'll finish the year at a net profit of just over $400,000. I hope it's right!
These are just predictions though. My campaigns have really plummeted over the past couple of months, so we'll have to see if the law of averages catches up.
August Recap
Geez… where to start?
I think I'll do this recap in point form to this time:
Got mostly caught up with e-mail (currently down to 70)
The vast majority of my campaigns died due to increased competition, offers going down, etc.
Had my new programmer make me some basic custom software that gives me a huge leg up on some specific types of campaigns I run. Already paid for itself and will pay off many dividends in the future
Managed to get some brand new profitable campaigns going. They don't make much, but it is so important to be able to do this…
Worked hard on some new landing page ideas, which definitely paid off
Spent a fair bit trying to get new campaigns going. Been struggling in this regard, but did manage to get a couple new offers going at small profits.
Had some server issues which caused some downtime and losses on my campaigns
The good news is that despite virtually all of my existing campaigns having died, that I still managed to get some brand new profitable campaigns going and end the month in a profit of $8,500+.
September Plans
For September, I have 3 things on my mind. In order of priority:
Finish Catching up to E-mail
I currently only have 70 e-mails left to tackle. However, most of the ones left are fairly "involved" so they will take a lot more time and effort to deal with.
Finish Taxes
Once I finish my e-mail, I'll have a "clear head" and will be able to focus 100% on doing my taxes.
Affiliate Marketing
With August being such as bad month for me, I really need to step up and work my ass off to try to get my campaign numbers up again. This is definitely easier said than done, but I do want to return to my 5-figure profit months.
I also want to modernize and sell some more of my websites, but I don't think I'll have time in September, so that will probably have to wait until October.
September Campaign Income Predictions
To be honest, I don't think that September will be a good month. If I had to guess, I'd predict around $5,000 profit, and I wouldn't be surprised if it was more like $1,000 profit.
Part of this is because I will need to spend a lot to try to find new profitable campaigns.
We'll just have to wait and see. Check back on October 1st to see the results!
Now – how did August treat you for your affiliate marketing campaigns? Share your results in the comments below – I'm genuinely interested in seeing how things are going for others.