March 1, 2008
Posted by Tyler Cruz
It sometimes scares me just how fast time can fly. It's already March… March 1st, in fact, which of course means it's time for another Blog Earnings update.
I'm not going to delay the results like I usually tend to do for dramatic effect (*rolls eyes*), and will just spit it out. My blog earnings for February 2008 came to: $1,548.75.
I'm very happy with the results – it's a new record after all, and I managed to break the $1,300 goal I set for myself last month.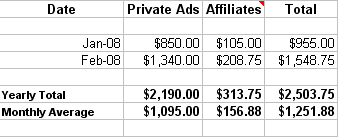 It's now beginning to get a bit more difficult for me to calculate the exact earnings each month for several reasons:
As my number of revenue sources grow, so does the time it takes to calculate and record everything.
It is difficult for me to discern which income I should count for which month. If I base it on when I get paid, then it can largely inflate or confuse things since some ad networks and affiliate companies pay on a Net-30, Net-45, or Net-60 basis. If I base it on when the ad runs on my blog, then it is difficult when the ad runs through part of one month and part of another.
I know that I've made X amount of money from some income sources, but have no direct way of viewing those stats myself without asking directly. This can create a bit of paranoia.
For example, I had a very difficult time deciding if I should count one of my private ad sales in February's blog income, or in March's. One of my advertiser's ads expired in early February, and I have not been able to catch him during the past 3-weeks to renew. But this advertiser is a friend of mine – we often talk on IM, and he's been a repeat, recurring advertiser for 6-months.
I have great trust that when he returns from wherever it is he went to that he will pay me for the recurring ad. I will not run it past it's next expiry date, but I continued to run it even though he hasn't paid me yet because I know that he will pay me.
So even though I didn't receive the money from him, since the ad was renewed on February 6th, I decided to count it in this month's earnings.
Growth
The graph below charts my blog's income earnings during the past 12-months:
B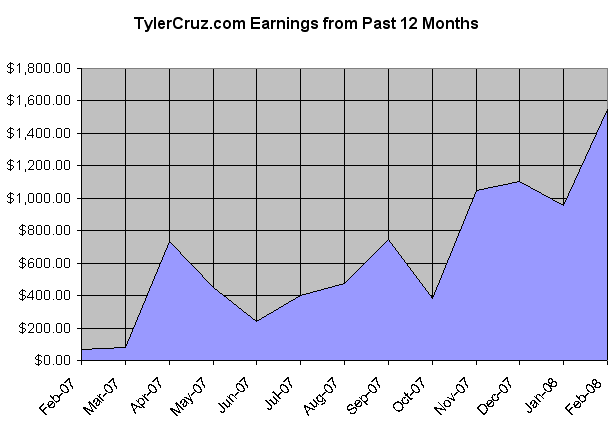 February 2008 spawned a great new spike, and it's nice to know that I'm making some progress with my blog, although it has sure been up and down as the graph reveals. But in the end it's all about long-term growth, and looking back 1-year ago we can see that I only made around $40.
Since I've started to monetize my blog through more and more different revenue sources, I created a new spreadsheet especially for my affiliate and ad income. Here is the breakdown for interested readers:

WordZe
WordZe has proven to be a great consistent source of recurring, residual income, and the extra $70-$80 per month definitely helps.
Their referral program is really lucrative, check it out if you have the chance, or read my extensive review of them.
Kontera
As posted a week ago, I added Kontera to my blog. Kontera has been great with responding to all my questions via e-mail, and have worked with me directly to maximize and tweak Kontera's earnings
AdToll
My friends at AdToll recently added Peel Away Ads to their network, so I decided to try running them on my blog. I love Peel Away Ads because they are very interesting and unique forms of advertisements, are very visible, yet are one of the least annoying and intrusive ad formats out there.
If you want to buy a Peel Away Slot on my blog, the cost is $20 per week through AdToll. You can see on my AdToll rate card that the average CPC has been $0.56 so far. It's important to note that the AdToll Peel Away Ad hasn't been on my site for a full week yet, so those stats are actually a bit below what they will be in a few days. The CPC might go down to $0.30 which is not too shabby for highly targeted and relevant traffic.
If I continue to sell my Peel Away Ad slot on AdToll each week, that will be an additional $60 my blog brings in each month. This is one way to maximize your site's earnings – to draw income in from many different sources.
BannersMall
BannersMall has an affiliate program, and since I love to promote and endorse them, I get a few bucks back in return!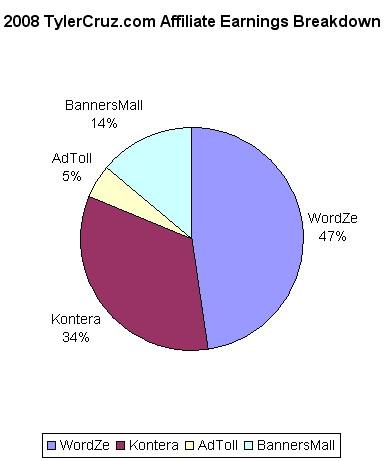 The pie chart above is a bit too early to come to any long-term conclusions with, as it's only data from 2-months so far, but we can see that WordZe and Kontera have been great additional source of revenue for my blog.
Private Ad Shoutouts
I'd like to give some quick shoutouts to my repeat sponsors and advertisers:
TTZMedia – John Chow has continued to renew his ad for his TheTechZone affiliate program on my blog and has made his way up to the top of my left sidebar. Check out TTZMedia.com and try John Chow's very own affiliate program.
LearnHow2Earn.com – Apart from being a popular guest poster on my blog, Nick has been a recent but recurring 125×125 advertiser. Be sure to check out his blog, as he has some good posts.
BooksWealth.com – This is their 3rd month renewing their 125×125 Sitewide Banner with us, so if you haven't checked them out yet, maybe you should!
Sidewide 728×90 Banner & Embedded 300×250 Slots Available
Sidewide 728×90 Banner – This slot will be available on March 6th, but you can prepay for it now and secure it. It is sitewide, the only ad in rotation, and is prominently displayed at the top of the blog. More information.
Embedded 300×250 Banner – The only ad to display in my RSS feed of nearly 1,400 readers, this banner is also displayed inside of EVERY post. It is available on March 10th, but you can prepay for it now and secure it. More information.
March Goals and Predictions
I must admit: I don't think it will be easy beating February's record of $1,548.75. Maximizing revenue and eCPM is one thing, but continuing to increase income without keeping a good accompanying growth of traffic is another.
In order to continue increasing my blog's income, I will have to increase traffic. But that's for another post.
My goal for March is to make $1,600, but my prediction is that I'll make around $1,200-$1,300. I'm usually pretty good with my predictions, so let's hope I'm wrong!