February 12, 2013
Posted by Tyler Cruz
Yes, it's another new affiliate marketing record post…
This record was actually made back on February 3rd, 2013, just 1 day after my previous record of $6,585, but I thought that you guys might be starting to get tired of these posts, so I opted to publish a different post inbetween.
It is very surreal to me to be generating such huge numbers on a daily basis, and just how quickly those numbers have grown. I still believe that going from $0 to $10 profit a day is a lot harder than going from $10 to $1,000+ a day.
If you can get past the first hurdle which is the hardest ($0 to $10 a day), then growing from there is not much different. It's really all the same mechanics involved, just at a larger scale.
Anyhow, on February 3rd, 2013, my campaigns brought in a total of:
$7,097 for the day!
That's an increase of $512 over my previous record!
The number still boggles my mind.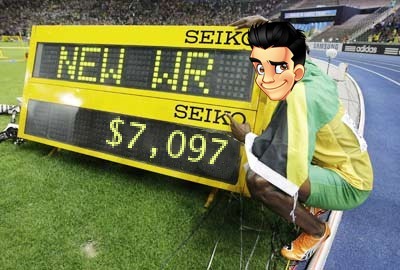 I Could Care Less About Gross – What's The Net?
Out of that $7,097, I ended up spending a total of $4,260.84 in paid traffic, resulting in a net profit of:
$2,835.78 for the day
While this is a new personal record for the amount of gross income my affiliate campaigns generated in a single day, it is not quite a new net profit record.
It fell just $48.11 short, which was $2,883.89, made on January 29th, 2013.
The overall ROI for the day ended up at 66.5%.
Uphill Battle
From here on out, it's going to be a real uphill battle for me to set another record.
My current campaigns have more or less been scaled as high as they will go, and there has also been a couple of setbacks as well.
For starters, I've hit the daily limit of what the advertisers of one of my offers can take. I also had a couple of price decreases on various offers as well.
My main focus right now is to get my "don't give up" campaign working. If I can get that profitable, then I'll be able to set new records and reach the next level.
However, I am really behind in my e-mail and other work (not to mention personal stuff). I've been spending the majority of my time working on my affiliate marketing campaigns and blogging that I've really let other work pile up.
For example, here's a screenshot of what my Gmail account looks like: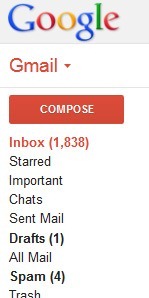 Those are all work-related e-mails too, not personal or junk.
Lastly, I'm currently sick with a really nasty cold that just started yesterday. I absolutely hate being sick because I don't give sick often and when I do get sick, it's usually quite bad and lasts for weeks. Hopefully this one won't stick around that long.
Anyhow, that's my post. I have no idea when I'll break this record, but I definitely wouldn't bet that it is anytime soon. I'll be happy if I break it within 6 months!
21 Responses to "New Affiliate Marketing Record: $7,097 in 1 Day!"