April 23, 2011
Posted by Tyler Cruz
I'm actually 4 days early in posting this update, but am doing so because I just can't wait any longer!
You guys will absolutely love this update, and will most likely be salivating over the results I saw during the first week of April.
I started these SEO case study reports back in mid-November of 2010 with the help and support of Socia Sheffield, and now provide monthly updates on how my various SEO campaigns are faring. If you need the best SEO services, organic seo specialists need to be contacted.
If you haven't seen them already (or simply want to read previous reports in this case study), you can view the previous months here: Month 5 Results, Month 6 Results, Month 7 Results, Month 8 Results, and Month 9 Results.
If you want to skip all the details and get straight to the results, scroll down to the last image, as it gives a fantastic overall summary of last month's results or take a look at Home Service Direct to know more.
SEO Firm Keywords
My 2 RankPay keywords saw some small improvement over the past month, but are very inconsistent in their rankings. One day they'll be ranked, then another day they won't be. This may be because they are still not ranked high enough yet, but it's still a bit odd.
One of the keywords actually made it to the top 100 a few days ago (#84), but has since dropped out of the top 1,000 again.
I know I've mentioned this a lot, but please remember that these 2 keywords I'm targeting are INSANELY competitive, so keep that in mind.
On another note, the founder and CEO of RankPay actually contacted me the other day. Apparently, his team has been following my SEO case study reports – so hello to any of you guys currently reading this.
I'm going to try to set you guys up with a promotional deal with them, giving you some free bonus money when you sign up. I'll keep you posted on that, but I know that most of you guys are waiting to see some solid results from my own case study with them before you sign up.
Hired New SEO Guy
In my previous update, I had mentioned how I finally fired my first SEO guy and was about to hire a new one.
Well, I did hire a new guy an, and he started on April 1st, and… well… *in a Kelsey Grammar voice* GOOD LORD!
I'll summarize his results with a simple screenshot of my affiliate site's rankings LESS THAN 24-HOURS AFTER HIRING HIM:

What? Isn't SEO supposed to be a long wait? What's up with the immediate effects?
The first thing my new SEO guy did was had me change my on-page SEO by editing my META and TITLE tags. I agreed to do this, as I wanted to give this new guy a fresh level of trust, even though my last SEO guy gave less than stellar results.
So, such a change could explain the immediate and dramatic boost in rankings. However, it doesn't explain why my movie site, in which I didn't edit any of my on-page SEO, also saw an equal amount of improvement overnight.
Excited, I eagerly awaited 12:01am each night, where I run my prized RankTracker software to check my keyword rankings. Amazingly, my rankings only continued to improve over the next week. In fact, I improved dramatically on almost every keyword all the engines. Wow.
What's more, is that I'm paying this new guy a fair bit less than what I was paying my previous guy!
SEO Income
Since this case study series is beginning to collect more data, I am now displaying the SEO income from my affiliate site in a table format for easier viewing:
| | | |
| --- | --- | --- |
| Month of SEO | # of Leads | Approximate Value |
| Month #6 | 5 | $300 |
| Month #7 | 1 | $60 |
| Month #8 | 2 | $120 |
| Month #9 | 5 | $300 |
| Month #10 | 5 | $300 |
Please note that since I don't always publish these updates every 30-days exactly, that these numbers are a bit off due to overlapping, having a bit of a gap, and whatnot.
To be honest, I was rather surprised that I didn't see much higher numbers during the past weeks since I saw a great increase in my rankings. 3 out of 8 of my affiliate keywords were in the top 10, with one of them at #2, and I really thought I was going to see 3-4 leads per week, but they just didn't come in.
I only noticed the tiniest increase in traffic, so it makes sense. It just goes to show that you really need to be ranked high in order to get any decent sort of traffic from natural search result traffic.
Nevertheless, I'm hoping that month #11 will set a new record for SEO affiliate income.
Month 10 Update
This portion of my SEO case study is extra-interesting this time around due to the dramatically fast improvement once I hired my new SEO guy:
The first image is of Google Webmaster Tool's traffic graph for my Google keywords of my affiliate site. The Y-axis is the amount of impressions, so it's really not that special, but does show an improvement:

The following images are of some of my various affiliate keywords.
Just a reminder that I am currently tracking 13 keywords across 3 search engines and it is important to know our progress and positing in for search engines, so I won't be able to focus on every single keyword, and will therefore focus only on the ones that show the most change (good or bad).



Noticing a trend yet? 😉


These were all for Google. My Bing/Yahoo results saw good improvement on my affiliate site, but rather bad drops on my movie site. Who knows why.
Overview Chart
And last but not least, here is a very nice overview comparison chart of both my sites from both 1 month ago and 6 months ago, as compared with today.
I use RankTracker to track and graph all my keywords, and I absolutely endorse it 100% if you are doing any kind of SEO work.
What a month, what a month! And remember, my new SEO guy was only hired 22 days ago…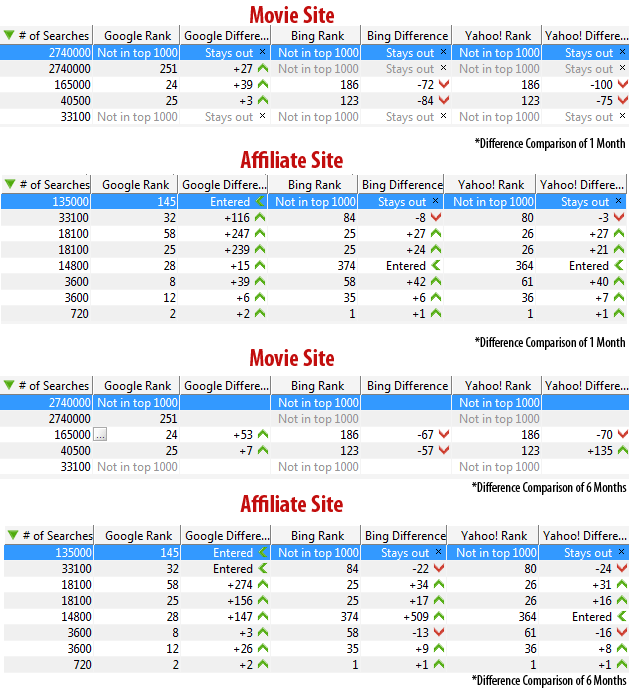 I really hope that this wasn't a fluke or a one-hit wonder and that next month will see great progression as well. I certainly can't wait to see what happens. My SEO guy is certainly optimistic.
In fact, before I hired him, he offered to work on the keywords on a performance basis – meaning that I would only pay him if and when they hit the top 10. However, since that would add up to a fair bit more, I went with the monthly package instead. His initial estimation is that it would take 3 months to get in the top 10.
I was very cautiously optimistic in the beginning, but after seeing his results so far, I think that he might actually be able to do it… also, he said that if in 3 months I am not in the top 10, that he will continue to work on the keywords free of charge until I am.
Is this guy Superman?
Anyhow, you guys will have to stay tuned for next month's SEO report. It could be a real doozy. I know I can't wait.
Posted: April 23rd, 2011 under SEO