January 3, 2008
Posted by Tyler Cruz
After the success of my $300 RSS Contest, I decided it wouldn't hurt to hold another contest. Likewise, my friend and up-and-coming blogger Gyutae Park from WinningTheWeb.com, recently finished his own RSS contest and was also looking to hold another contest.
So it didn't take long for the two of us to come up with a contest idea which is really a competition between each of our blogs.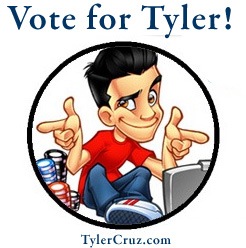 The Contest
Gyutae and I are each going to try to get our readers to write blog entries on why you think we deserve to win or why you are voting for us. At the end of the contest, we will tabulate who received more "votes".
The loser of the contest will then have to pay 3 $100 prizes (a total of $300) to 3 lucky winners which will be chosen by random from a draw of the bloggers that voted for the winner.
The Prizes
3 lucky winners will each receive $100 via PayPal from the loser of the contest, who we hope will be Gyutae.
In addition, for each person who votes for me, I'm giving out the following prizes:
100 150 Entrecard credits
A plug back to each blog that votes for me
Therefore, if you vote for me, you're guaranteed 150 Entrecard credits, a plug of your blog, and 3 chances to win $100 cash!
How to Enter
1. Write a blog post on why you think Tyler/Gyutae deserves to win or why you are voting for Tyler/Gyutae.
2. Make sure you write somewhere in your post about this contest, and link to both my blog and Gyutae's. This only needs to be 2-3 sentences, but must be in the post somewhere (at the bottom is fine). You will probably want to link to this post as well.
3. Once done, post a comment in this post (or Gyutae's post at WinningTheWeb.com if you vote for him) stating the URL of your "vote". If you vote for me, leave your Entrecard e-mail address as well (or e-mail it to me if you don't want it public) so that I can send you your 100 credits!
The contest runs for 11 days from January 3rd at 12:00am Pacific (3:00pm Eastern) to January 14th at 6:00pm Pacific (9:00pm Eastern).
Rules & Guidelines
Please write a minimum of 300 words in your blog post.
You must link to the winner's site (and when you mention the contest, both TylerCruz.com and WinningTheWeb.com)
You may vote for only one person, either Gyutae or me.
You may only win once; if you name gets drawn twice, we will draw again.
"TylerReviews" are not eligible for this contest.
The posts do not need to be 100% serious, and can be written in a fun and humorous manner, but serious ones are more than welcome too, of course.
Why you should vote for me and NOT Gyutae
Sure, Gyutae may seem like the smart, friendly, and overall lovable guy you've learned to love, but he has a darker side to him as well.
I can almost guarantee you that when he announces this contest on his blog that he will be giving away additional prizes as incentives to vote for him! In fact, I bet you he will try to give away some free advertising on his blog…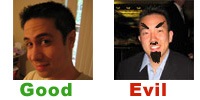 Now, this is all part of the game, and he's allowed to do this if he so chooses. Therefore, I bet a lot of you are wondering to yourselves right now why you should vote for me when you can vote for Gyutae and receive additional prizes? Well, there's a very good reason why you should vote for me instead of Gyutae.
Remember: only the participants who end up voting for the winner will be inserted into the drawing and eligible for the prizes. So if you vote for Gyutae and he ends up having less votes than me, you won't be eligible for any of the $300 prizes.
So the real question is: who do you think stands the better chance of winning: me or Gyutae?
Sure, Gyutae is crafty. A bit too crafty for my liking. But I have numbers on my side. At the time of this writing, my RSS stands at 1,077 compared to Gyutae's 262. My Alexa is 29,029 while Gyutae's is 83,196, and my Technorati is 7,667 while poor Gyutae's is 43,764.
So voting for me would be a wise decision… yes… a very wise decision 🙂 If you've already reviewed my site before, perhaps for a TylerReview, you're more than welcome to enter this contest.
This is the first time any such contest has ever been conjured up before, so neither Gyutae nor I have any idea how many participants, and thus votes, will turn out. But I can't imagine there will be too many, so you stand a very good chance at winning $100. If 12 people "vote" for me and I end up winning, you stand a 36% chance of winning an easy $100.
If $100 doesn't do a lot for you, then vote for me out of the goodness of your heart, and save me from losing and having to fork out $300 to the winners!
Posted: January 3rd, 2008 under Contests