January 1, 2008
Posted by Tyler Cruz
Ever since hitting my $1,000 milestone last month, I've been eagerly awaiting making this post. I love breaking personal records… part of it is the OCD in me, but another part is the fact that it's simply very motivating.
My goal for my blog's December income was to set a new record and hit $1,200. I did quite a fair bit of work in trying to make this goal, and now I'm fairly close to having maximized the monetization potential of my blog. However, there are still a couple tricks I have up my sleeve without having to oversaturate my blog with an overabundance of banners and ads.
First, I have a deal with a certain ad network pending which should hopefully go live in January. Secondly, I haven't taken advantage of affiliating yet. Writing reviews or promoting various products or services through affiliate programs makes up a large portion of blog income for some of the top bloggers, and I have yet to try my hand at this. However, I have been working on this, and have been reviewing a certain product during the past week. I'm about 30% done and hope to have a review of it up within another week or two, and will then see for the first time, the potential of affiliating on my blog.
But other than these two things, I've pretty much maximized my eCPM; December's eCPM was around $55 (not counting RSS views; only actual visits to my blog), which works out to 5 cents per page view. Now that my blog is finally properly monetized, I need to focus on marketing and promotion. I started this already with my $300 RSS Contest which was a great success.
Anyhow, here are the results for December 2007: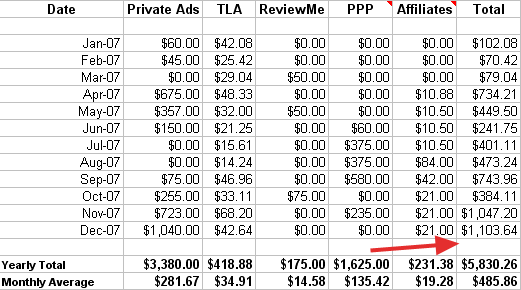 As you can see, December brought in a new record at $1,103.64! This is bitter-sweet though; while it's a new record, I didn't make my goal of $1,200.
This is partly due to the season – as John Chow had predicted to me, December is usually a poor performing month due to the holidays. Not only do we have Christmas, but New Years as well.
The other reason December didn't make my goal was because of timing. I sell my ads on a fixed monthly price, and sometimes advertisers renew their campaigns early. In fact, normally they do renew early so that their campaigns will continue to run unaffected. However, not all the advertisers renewed "early" this month, so I didn't make my goal.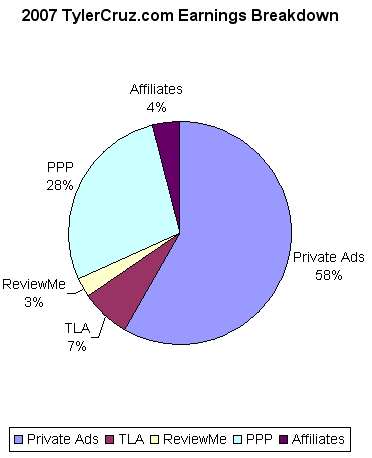 Private Ads are continuing to dominate the earnings breakdown, which is fine with me. But I'd like for the Affiliates section to grow.
Sidewide 125×125 Banner Slots Available
I currently have two slots available for the Sitewide 125×125 Banner campaigns. They cost $40 a month and can be purchased on my advertising page. If they're good enough for John Chow to purchase, they're good enough for you!
Sponsor Shoutouts
I'd like to give some quick shoutouts to my repeat sponsors and advertisers:
InstantCoding – You must know these guys by now, as they have the most prominent ad on my blog. Check out my review of them.
PSDGator – While it's the first time PSDGator.com has been advertised on my blog, it was bought by longtime repeat advertiser Lee Bandoni, who had previously advertised GetMeContent.com. It's sure nice to see a new banner up top – it will probably do well due to the "change of scenery" alone.
TTZMedia – John Chow has continued to renew his ad for his TheTechZone affiliate program for the third time. Check out TTZMedia.com and try John Chow's very own affiliate program.
Entrecard – Entrecard purchased two reviews from my blog. Read the first one here, and the second one here which details the effects of having used Entrecard for two weeks on my blog.
AdToll – They bought another paid review from me, as well as a 125×125. Check out my latest review of them where I discuss some of the latest improvements.
WordZe – they haven't purchased any advertising this month, but I'm making continual residual income from them each month. Their referral program is really lucrative, check it out if you have the chance, or read my extensive review of them.
Finally, a big thank you to NeverBlueAds for sponsoring my $300 RSS Contest!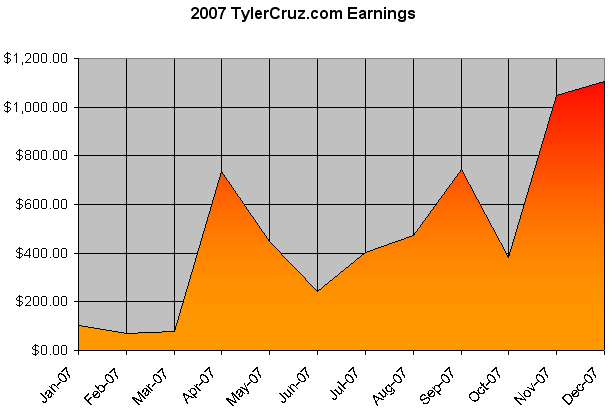 Overall, I'm satisfied with December's results. Even though I didn't make my goal, I did set a new record, and helped silent a couple of TylerHaters who thought that November's earnings was a fluke 🙂
My goal for January is to make $1,300. Wish me luck, it's not as easy as it sounds!
40 Responses to "Blog Earnings: December 2007"