January 1, 2009
Posted by Tyler Cruz
Last month my blog income set a new record of $6,663.94 which was $800 more than my previous record. While it's an absolute treat getting to announce new income records, in most cases it's nearly impossible to keep up such a pace. Standard deviation and variance dictates that there will be some dips. The important thing is what the long-term trend shows: are things moving up over time, or moving down?
That being said, it should be pretty obvious that December 2008 didn't perform too well for my blog. There are three reasons for this:
First, the holidays really slowed things down. Companies and employees get a lot of time off in late December, and people go visit their families and friends, taking a break from the Internet. Secondly, my largest referral with MarketLeverage saw a big drop from the volume he was doing. Lastly, a new referral I had signed up was doing absolutely awesome but suddenly and mysteriously stopped completely about a week into the month.
It's funny because I had predicted that the month would actually exceed $10,000 from the pace things were going the last few days of November. In the end, however, December 2008 finished with a very disappointing $3,329.24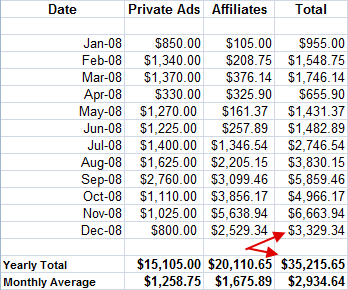 While December was a disappointment, 2008 was great as a whole. I had entered the year with $955 in January and 10 months later brought in $6,663.94 in November. For the year of 2008, my blog brought in a total of $35,215.65. That's an average full-time salary for a normal job I think, not bad for working about an hour or two a day on my blog!
In comparison, in 2007 my blog brought in a total of $5,830.26 and in 2006 $646.29. If you look at the progression from 2006 to 2008 then 2009 could be pretty astronomical!
Here is a chart depicting the growth trend of my blog during the past 12 months: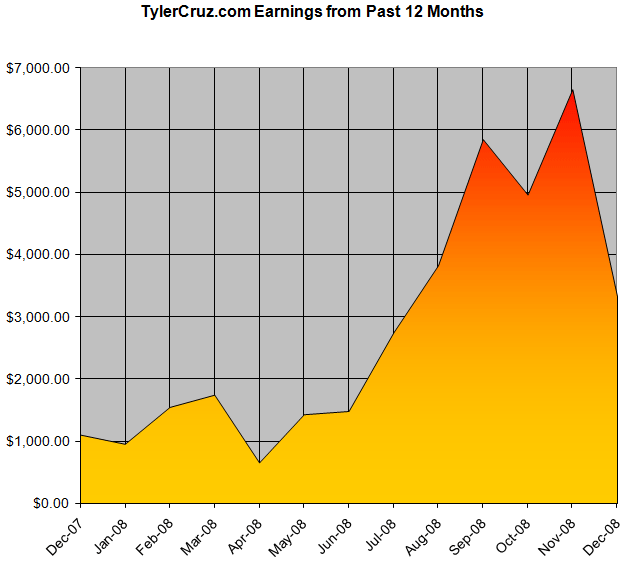 Yes, the big decline on the graph hurts to look at, but I'm not going to hide anything or go into denial about it. Besides, my blog is only one of my sites, so there's no need to hang a rope quite yet 🙂
Here are my affiliate sources. It'd hard to believe that MarketLeverage referrals brought in over $18,000 since the summer!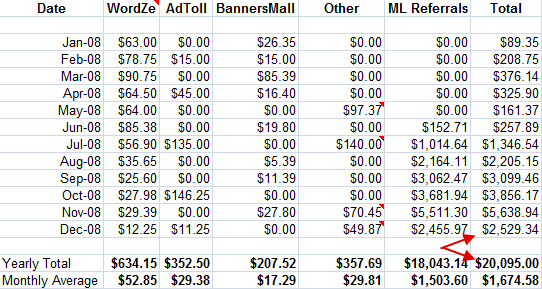 The pie chart below shows MarketLeverage continuing to dominate the rest of my affiliate sources. In fact, pretty soon I might have to stop displaying it since soon it will just be a giant pink dot…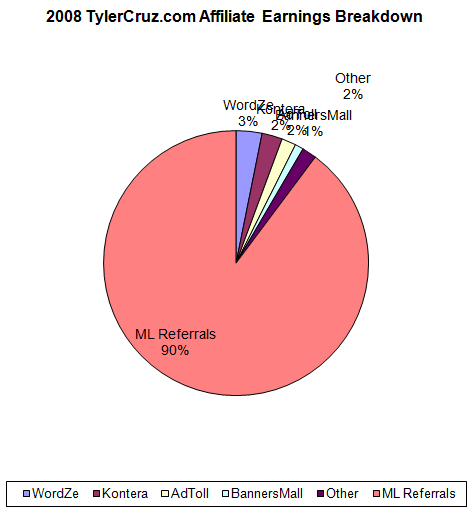 Looking at my blog's earnings breakdown pie chart below, I'm still not sure what the best mix is, but I think the most I'd ever want one single source to take up would be around 70% at the most.
I'm happy with the distribution of the pie chart below, although you can expect the Affiliates piece of the pie to start overtaking the Private Ads piece soon.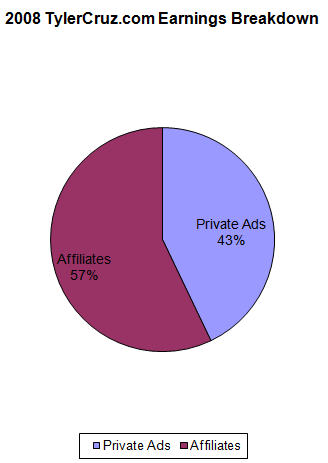 Affiliate Sources
MarketLeverage has continued been a fantastic revenue source for my blog. In the month of November alone, my referrals generated me over $5,500 in commissions. This is not counting the money I make with them through my PPC affiliate marketing efforts.
WordZe has continued to prove to be a consistent source of residual affiliate income. I only wish I catered more to affiliate marketers so I could promote it more. Their referral program is really lucrative, check it out if you have the chance, or read my extensive review of them.
InspiredMoneyMaker.com – This is Paul Piotrowski's blog. You might find his name familiar from the superb guest posts he occasionally submits to my blog.
Get a Paid Review
For $175, you can order a custom review written by me on your website, service, or product. I cannot guarantee a positive review as it is after all a review and not one long ad. However, you will get the benefit of receiving an entire post written about your company or product in great detail.
Feel free to view some of the many past paid posts I wrote. Below are the most recent ones:
Or…
For the same price, you can purchase a Paid Plug, which is essentially a paid review written by yourself.
Grab a Paid Plug or Paid Review!
January Goals and Predictions
January is very difficult to predict. My largest referral with MarketLeverage had a very disappointing December but I noticed his campaigns picking up the past 2 days so hopefully he can make a comeback.
I'm also running my Affiliate Marketing Challenge 7 with a new affiliate network (XY7) so that might bring in new referrals income, but at the same time could alienate some MarketLeverage referrals.
My goal for January, however, is to set a new record. This won't be easy as it would mean having to generate over double what December did.
As usual, stay tuned a month from now to see the results from this month, and wish me good luck! I'll really need it this time…