January 10, 2011
Posted by Tyler Cruz
While I'm a little bit late in getting this post up, I haven't forgotten about it… although I probably wish I had. Every year around this time, I reflect back on the work goals I created for myself for the year to see how I fared.
You can see my past revisit posts for the years 2008 and 2009, and you can also read My Work Goals for 2010 post as well.
Last year, in an effort to try to remember my goals and see them everyday, I purchased a whiteboard (although mine is actually silver), wrote my work goals on it, and placed it in my office next to my desk. It is still there as I speak, with my original goals: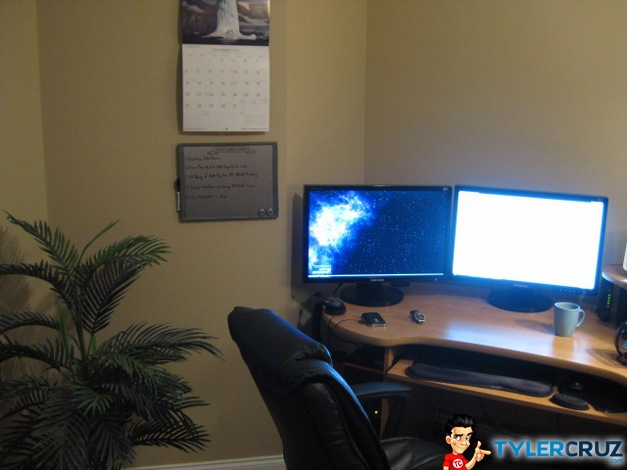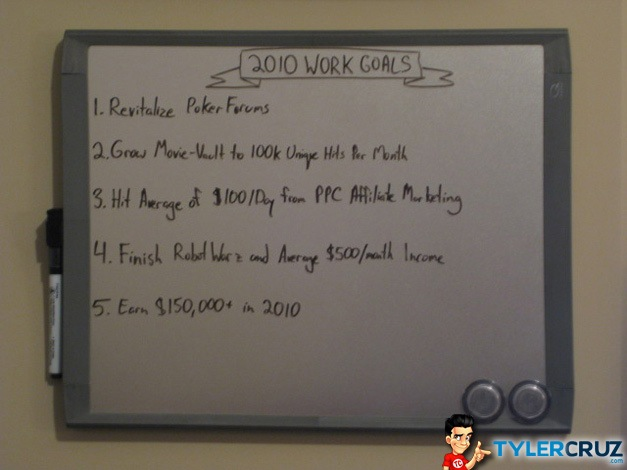 Was it effective? Not nearly as much as I had hoped it would, as I quickly got used to ignoring it. It'd probably be much more effective to actually physically write down my goals every day, but that is also going overboard, in my opinion, and would be too much of a chore.
The whiteboard did have some benefit though, as I would once in a while look at it and try to remind myself that these goals needed doing, so I don't regret putting it up.
Anyhow, without further ado, here is a look back at my goals for 2010:
1. Revitalize PokerForums
Result: Fail
This was one of the goals that really needed doing, and wasn't just one of those "that would be a nice milestone" type of goals.
Unfortunately, I never got around to making this happen. This is a hard one for me. The poker industry has roughly been in decline ever since the UIGEA was passed in late 2006, which slowly had an impact on my poker site.
But I can't just blame the UIGEA. The fact is that I went overboard in trying to "diversify my portfolio", and got myself tied up in too many projects at once. So many projects that I didn't have time to put to the site. I also started playing poker less and less, and by 2010 was not playing at all. And when you're not interested in something, it is very difficult to try to dedicated time to it. Just ask any 10-year-old taking piano lessons.
A month ago, I did enter some very big discussions with a couple of poker behemoths in the industry (I'm talking HUGE here) and we were extremely close to working out a deal, but in the end I turned it down because it deviated too much from what we initially talked about, and would result in too much stress for me. And I'll do almost anything to avoid unneeded stress.
I also put the site up for sale earlier in the year and had a bunch of offers, but they were just a bit short of what I wanted to part with the site. I think I will relist it again soon because I just don't have the time for it, and it's such an old, established site.
2. Grow Movie-Vault to 100k Unique Hits Per Month
Result: Fail
Although this is a fail, since I only managed to increase traffic by around 2%, I don't feel bad about this one. While the traffic didn't really improve, the fact is that I did everything that I said I was going to do at the beginning of last year.
Movie-Vault.com now has regularly updated great content, and my hired SEO freelancer is now on his 7th month working on the site. In fact, it is currently ranked high on the 3rd page and on the 7th page on Google for two very premium search phrases.
I signed a tight contract with a movie advertising agency early in the year which gave them the exclusive right to represent me as an ad agency. They turned out to be an incredibly bad company as the had promised me CPM's of $7.50 – $15, but hardly sent any campaigns my way, making me pretty much nothing. The good news is that my contract with them expires in a couple weeks.
Later in the year, I had a lot of discussions with Zediva, and we are forging a strong relationship together that will hopefully flourish through 2011. We are looking forward to some cross-site integration together that will be implemented soon.
I did a lot of work on Movie Vault this year, and so I am happy with its progress even though its traffic didn't increase. The revamp is done and it's a great site with great content – now it just needs traffic.
3. Hit Average of $100+/day Profit from PPC Affiliate Marketing
Result: Fail
Another fail. I spent a lot of time on PPC affiliate marketing early in the year, and also tried my hand at promoting zip submits for the first time as well, with mixed success.
In early May, I actually managed to make $739.94 profit in only 7 days… so during that brief time I actually made my goal of $100/day profit.
But the goal was to average $100 a day over the long run, not just a week, and so I didn't make this goal, although I did end up profiting $450 during that month.
I stopped all PPC affiliate marketing after that, and switched to SEO for promotion, for those wondering about any affiliate marketing updates. While I was making a little bit of money with PPC affiliate marketing, it was taking FAR too much time from me, and SEO takes up virtually no time.
4. Finish RobotWarz and Average $500/month Income
Result: Fail
This is an extremely tough one to talk about. Basically, the development of RobotWarz has been an absolute disaster ever since I started. I've run into bad developer after developer after developer, and had the same problem with designers (but have a fantastic one now).
This was my first time developing a game, so I learned a few things for next time (if there is a next time). I'll save you guys a lot of time and headache: if you're planning to get a game developed, plan on shelling out at least $20,000, but more like $50,000+.
This goal was mostly out of my hands due to the developers, so I'm going to put the blame on them for this one.
Hopefully we can finally finish the game and get it launched in 2011.
5. Earn $150,000+ in 2010
Result: Fail
I didn't actually calculate this, but off the top of my head I don't think I made this goal.
The Year In Review
Oh well, I'm not going to lie. I've always been about being transparent and honest. That's one reason why people read my blog.
Overall, 2010 was a horrible year for Merendi Networks Inc. While there were certainly some successes, such as flipping a domain for a profit of over $14,000, huge SEO improvements, and bringing Movie Vault back to life, the truth is that there should have been a lot more successes to talk about.
I accept almost all of the blame (I still have a grudge about RobotWarz, heh). There is no doubt in my mind that I could and should have worked a lot more. Honestly, I hardly worked at all since early summer.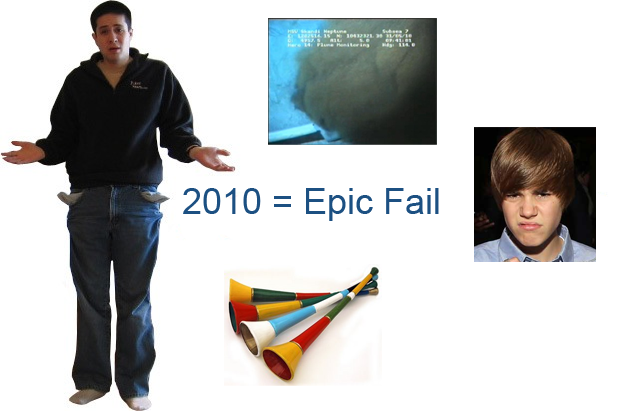 Click the play button below to hear a 5-second audio clip summarizing my 2010 year:
But that was all last year. It's 2011 now. I have a whole new year to look forward to, and I'm going to look forward, not backwards.
Stay tuned for My Work Goals for 2011 post which I will be publishing soon.