May 20, 2011
Posted by Tyler Cruz
Like last month, I'm a few days early in posting an update on this post series, but I just woke up, have a hot coffee on my desk, and am more or less ready to go.
Writing the title of this blog post made me realize just how long I've been 'working' on SEO. It's been 11 months already.. wow. That really puts things into perspective for me – I know SEO is all about patience, but 1 year (nearly) is really a very long time!
I started these SEO case study regarding web design for franchises back in mid-November of 2010, and now provide monthly updates on how my various SEO campaigns are faring.
If you haven't seen them already (or simply want to read previous reports in this case study), you can view the previous months here: Month 5, Month 6, Month 7, Month 8, Month 9, and Month 10.
If you want to skip all the details and get straight to the results, scroll down to the last image, as it gives a fantastic overall summary of last month's results.
SEO Firm Keywords
Unfortunately, my 2 RankPay keywords did not really see any improvement.
While one of them jumped up close to 100 spots from around #250 to #150, it is still inconsistent – sometimes not ranking at all.
And the other keyword saw a drop of around 10 spots, in the #95-105 range.
The best part about RankPay is that you only pay for results… so I've never had to pay them a dime so far. This is why I decided to target those 2 competitive keywords in the first place and go about the process of Negative link removal before anything else – there's no risk on my end. I'll either start ranking in the top 30+ and pay for the results, or I won't have to pay anything.
RankPay has been continuing to update me on my campaigns and are really pushing me to try keywords other than the 2 I've been using so far, as they are extremely competitive. I've been looking for other, less-competitive keywords to test with them, but can't really find any good candidates that will be worth the cost.
Nevertheless, I may still find a couple of new keywords I can add to the test.
New SEO Guy: 1 Month Later
In my previous update, I reported how the new freelance SEO guy I hired was doing absolutely awesome so far.
In the post, I showed the results in the image below of my affiliate site's rankings LESS THAN 24-HOURS AFTER HIRING HIM:

Please remember that these stats were from around April 1st – 3rd, not this most recent update.
By the end of his first month, he had delivered absolutely awesome results. Insane results. Ridiculous results.
And so, I was naturally very curious and in anticipation as to what he would (could) do in his second month.
In short, he continued to deliver great results to my affiliate site, however I saw absolutely no improvement on my movie site.
I just asked him about this, and he believes it is mainly due to me refusing to change my META and TITLE tags. I thought that Google and the search engines have increasingly put less weight into those over time, but I did make those changes on my affiliate site and have only seen great improvement so far, so as of a few minutes ago I decided to go ahead and follow his advice and change them on my movie site.
He said that I should see results within a few days… so I'll wait and see what happens. If I don't see any improvement after about a week, I'll revert them to what they were.
SEO Income
Since this case study series is beginning to collect more data, I am now displaying the SEO income from my affiliate site in a table format for easier viewing:
| | | |
| --- | --- | --- |
| Month of SEO | # of Leads | Approximate Value |
| Month #6 | 5 | $300 |
| Month #7 | 1 | $60 |
| Month #8 | 2 | $120 |
| Month #9 | 5 | $300 |
| Month #10 | 5 | $300 |
| Month #11 | 4 | $240 |
Please note that since I don't always publish these updates every 30-days exactly, that these numbers are a bit off due to overlapping, having a bit of a gap, and whatnot.
For example, this post is about 4 days early, so I could have possibly made 1-2 extra leads during that time.
With the highest rankings I've received for my affiliate site to date, I thought that I would have set a new record for SEO income this past month. I guess they have to continue to climb before that will happen.
In any case, I'm still more-or-less breaking even, since I'm only paying $300 a month for SEO. And actually, that cost includes my movie keywords (which I'm not including the income from) so really I'm not losing anything.
Month 11 Update
And away we go!
All of the screenshots below will be of my affiliate site, since my movie site basically saw no change.
Just a reminder that I am currently tracking 13 keywords across 3 search engines, so I won't be able to focus on every single keyword, and will therefore focus only on the ones that show the most change (good or bad):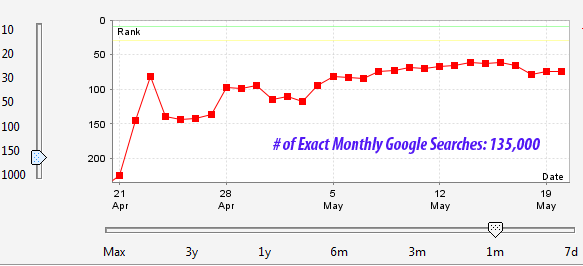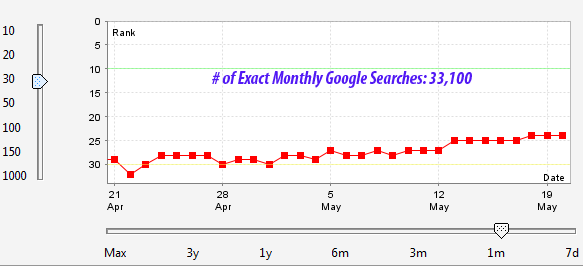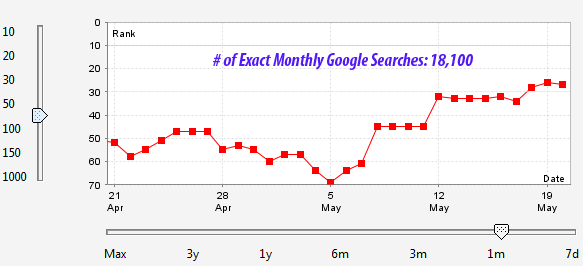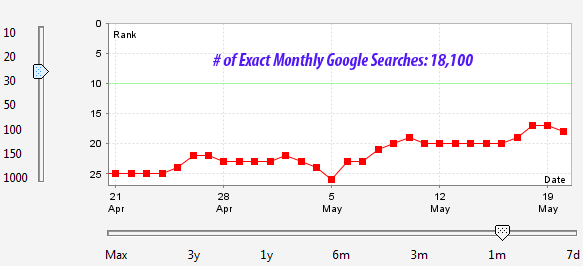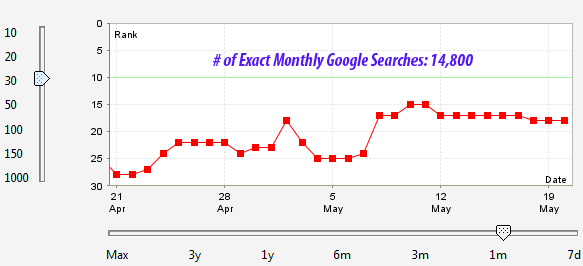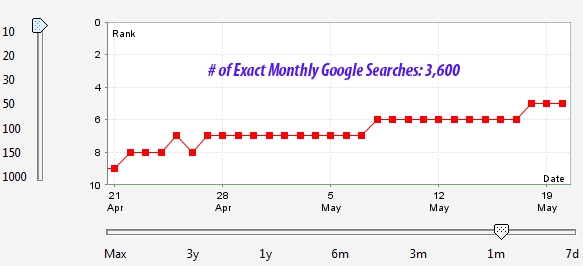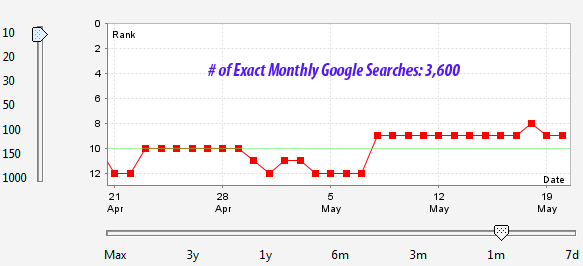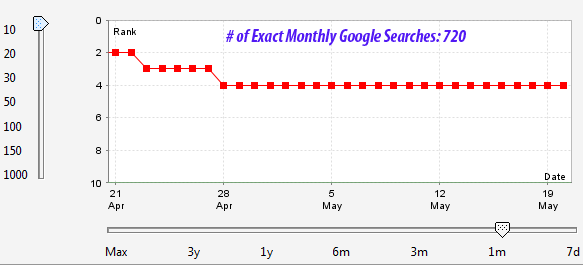 This last keyword was the only one which actually saw a drop. It also has the least amount of traffic though, so it's not a big deal.
Overview Chart
And last but not least, here is a very nice overview comparison chart of both my sites from both 1 month ago and 6 months ago, as compared with today. I had taken help from Local Client Takeover – a resource to learn maps seo, to come up with this chart.
I use RankTracker to track and graph all my keywords, and absolutely endorse it 100% if you are doing any kind of SEO work.
Another great month for my affiliate site: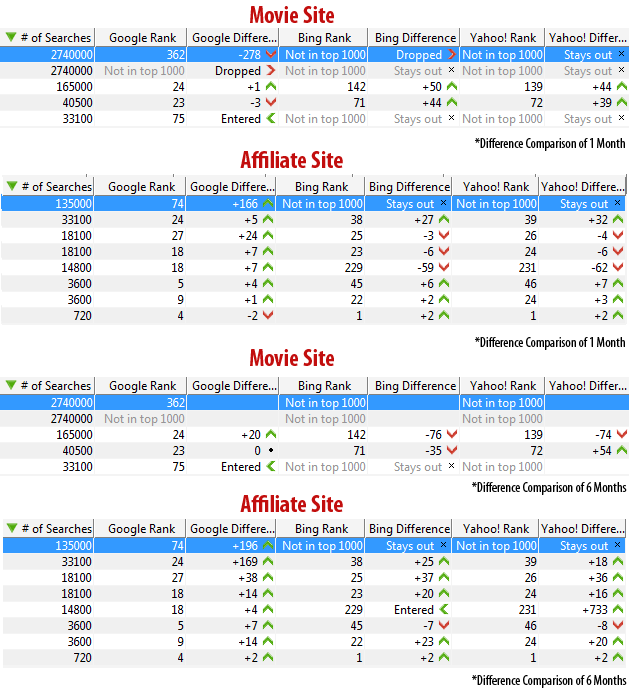 I'm going to request that RankTracker add custom date ranges for the difference comparison feature, or at least add more predefined options, as it'd be nice to show the overall improvement since I hired the new SEO guy.
I did request this before, and they added more predefined ranges, but I'd like them to add more, or ultimately, add exact date ranges.
In any case, this new SEO freelancer has been doing very well so far. I have not seen any real improvement in traffic yet, but I believe we're right on the cusp of that. If my affiliate rankings continue to improve next month as they have been, then I'll be very happy and would be very surprised if I didn't see a new SEO income record as well.
I certainly can't wait to see what happens.
But, we'll have to wait, and I'll have another update for you in another month from now.
Posted: May 20th, 2011 under SEO