June 27, 2011
Posted by Tyler Cruz
I'm a few days late in posting this update.
While I'd love to attribute that due to being busy, the truth is that I was waiting to see if one of my sites would return from the Google sandbox, which it did. I simply felt a bit embarrassed about having to report that all my hard work waiting may have been for nothing.
While I was updating the title of this blog post, I realized for the first time that I've been working on my SEO (well, hiring others like SEO agency in Edinburgh and waiting) for AN ENTIRE YEAR already.
While most of that time was from using a different SEO freelancer (check Schure Consulting LLC website for more details), it still goes to show just how much of a waiting game SEO is, or can be.
I started these SEO case study reports back in November 2010, and provide monthly updates on how my various SEO campaigns are faring.
If you haven't seen them already (or simply want to read previous reports in this case study), you can view the previous months here: Month 5, Month 6, Month 7, Month 8, Month 9, Month 10, and Month 11.
If you want to skip all the details and get straight to the results, scroll down to the last image, as it gives a fantastic overall summary of last month's results.
SEO Firm Keywords
I've been using RankPay for 7 months now, using 2 keywords as a case study with them.
They weren't the best 2 keywords to choose for a case study since they both have an extremely high search volume, totalling around 6 million EXACT searches on Google each month. However, since RankPay uses a performance-based system, charging you only once you rank in the top 30 (and tiered the higher you go), these 2 keywords were my best bargain.
Since the 2 keywords are so competitive, I didn't expect to rank well for them for quite a while. And that seemed to be the case too, as it took about 5 months to hit the #100 mark.
But finally late last month, after RankPay requested I make a simple on-page SEO change, my rankings soared literally overnight, and they have been slowly continuing to improve ever since then.
Take a look at the 2 graphs for each keyword below: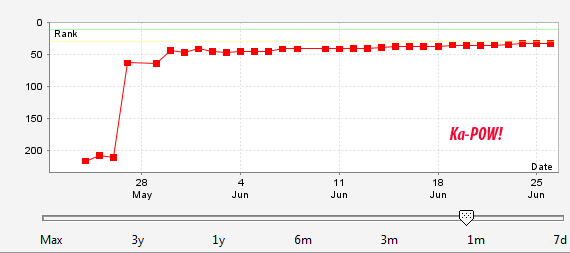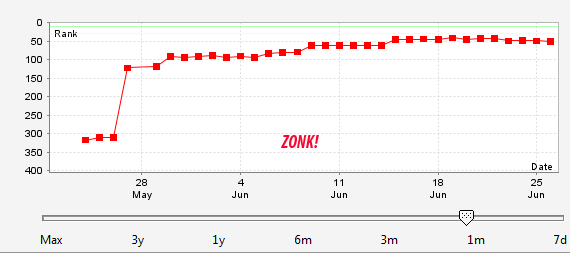 I am now currently ranked #32 and #50 on Google for these 2 keywords.
Normally, this would not be accompanied by a trumpet fanfare, but remember that both of these keywords are extremely competitive.
To prove my point, check out the screenshot from my Google Analytics account below:

Those stats were taken from June 25th, and they show a total of 30 visitors from those 2 keywords.
Keep in mind that my keywords are on the bottom of the 4th and 5th search result pages. The 4th and 5th! People rarely go past the first page (1%), let alone to the 4th and 5th! Yet, I still received 30 clicks in 1 day as a result.
Can you imagine how much traffic that would grow to if I was on the 2nd or even 3rd page?
Now, to be fair, the bounce rate on both of these keywords is extremely high, but then again, I haven't really prepared my site for those keywords either.
And since I am #32 and #50, it means that I STILL haven't had to pay RankPay a single cent, since they only start charging you once you're in the top 30. Basically, you pay for what you rank for, instead of just hiring a SEO freelancer or agency monthly and 'hoping' you'll rank.
It's because of this, and the fact that I AM starting to see results now, that I would recommend using RankPay to boost your keywords. My case study with them isn't finished yet, but so far, so good.
I worked out a special deal with them, and so if you decide to sign up with them, be sure to use TYLERCRUZ as the promo code, as it will give you an instant $50 credit applied to your account.
New SEO Guy: 2 Months Later
In my my previous 2 SEO updates, I mentioned how my new SEO guy was doing absolutely awesome so far. His results were so awesome, in fact, that I was curious if he could keep it up.
Unfortunately, based on the past month, I saw quite a drop in rankings on my affiliate site (Ex. from 15 to 30). They also, mysteriously, dropped to the 800 range on Google for about a week, before returning to near-normal levels yesterday. You can request google for right to be forgotten if you want some information removed.
I'm sure that they'll return 41 to 78, etc.). I'm sure they'll return to where they were, but the point is that they didn't improve.
In contrast, my 2 movie keywords improved slightly, from 24 to 19 and 24 to 21. Not the best increase, but considering the keywords and their current positions, it is satisfactory.
2 New Keywords
I hired my new SEO guy to work on another site for me, which I'll refer to from hereon as affiliate site #2.
I have him targeting 2 keywords which are about medium in competition.
However, instead of paying him a monthly rate on these 2 keywords, I'm paying him on a performance-based structure similar to RankPay. What's different, though, is that I only have to pay him a flat fee once each keywords is in the top 3 on Google, and then a small monthly fee each month thereafter to keep it up there.
Within days of starting, he already had me ranked #9 for one of the keywords, although it has since dropped down to #13. The other keyword is still stuck in the 300's.
SEO Income
Since this case study series is beginning to collect more data, I am now displaying the linkbuildingservices.uk income from my affiliate site in a table format for easier viewing:
| | | |
| --- | --- | --- |
| Month of SEO | # of Leads | Approximate Value |
| Month #6 | 5 | $300 |
| Month #7 | 1 | $60 |
| Month #8 | 2 | $120 |
| Month #9 | 5 | $300 |
| Month #10 | 5 | $300 |
| Month #11 | 4 | $240 |
| Month #12 | 1 | $60 |
*Please note that since I don't always publish these updates every 30-days exactly, that these numbers are a bit off due to overlapping, having a bit of a gap, and whatnot.
Ouch. What a horrible month! Only 1 lead, even though I had nearly 100 clicks to my offer. That is very abnormal behaviour, as my SEO traffic normally converts at around 10%. Strange and disappointing indeed.
I'll just have to hope for better next month.
Month 12 Update
Please note that I am currently tracking 15 keywords across 3 different websites and search engines, so I won't be able to focus on every single keyword, and will therefore focus only on the ones that show the most change (good or bad):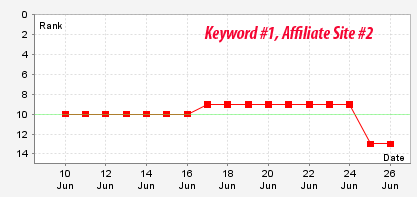 Overview Chart
And last but not least, here is a very nice overview comparison chart of both of my sites from both 1 month ago and 6 months ago, as compared with today. I didn't include the affiliate site #2 here since it has only been 1 month – I'll include it on the next update.
I use RankTracker to track and graph all my keywords, and absolutely endorse it 100% if you want to do the same.
Quite a few of you have already purchased it based on my recommendation. Feel free to comment on what you think of it yourself.
Anyhow, here's the overall change over the past 1 and 6 months: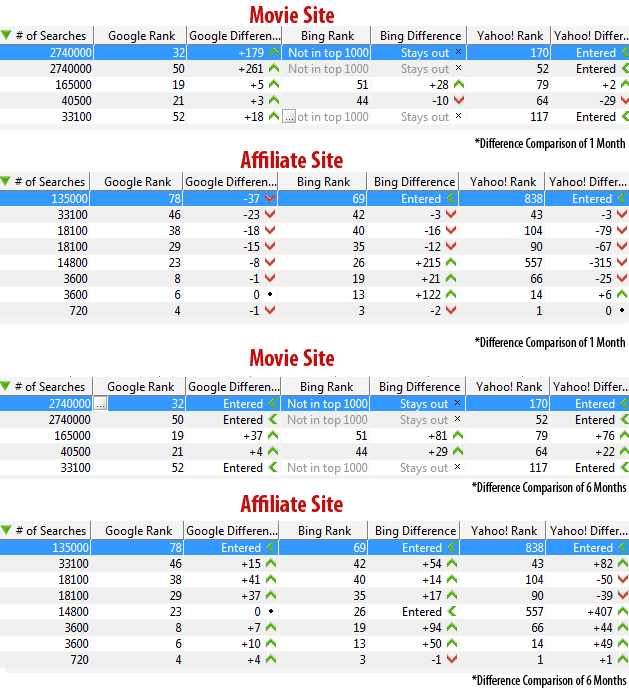 It is a bit disappointing seeing the drop in my affiliate site's rankings, but I'm also pretty confident that they will return to where they were before. The question is if they'll get out of the plateau and reach a new high.
While my movie keywords didn't see the greatest improvement, I am starting to receive traffic from them. I'd really like to get on the first page for them.
That's the update for now. I'll have another one for you in another month from now, as I always do.
Posted: June 27th, 2011 under SEO