June 2, 2008
Posted by Tyler Cruz
In my previous blog earnings update, I announced how April had performed very poorly, having brought in only $655.90. This was due to my infamous server crash which resulted in 7-days of downtime.
I was hoping for May to come back strong and show that April was indeed an anomaly by setting a new record. Unfortunately, I fell short for two main reasons. First, I'm not running Kontera anymore. Secondly, I only received 3 paid reviews. If I was still using Kontera and sold one more paid review, I would have barely set a new record.
But, I can't complain. In the end, May did perform fairly well and did prove that April was not a new downward trend, by bringing in $1,431.37 which is my 3rd best month to date.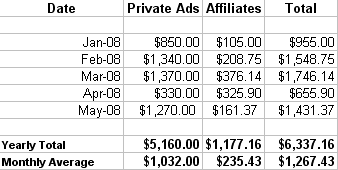 Ahhh… it's nice to see a new mountain rise once again. Unfortunately, April will leave a nasty scar for a while…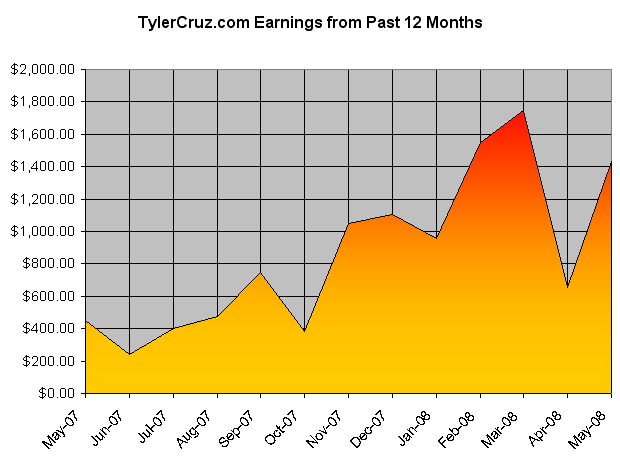 The affiliate state are slightly misleading since I've been consistently sold out on AdToll, yet I did not include their payment. This is because AdToll does not process, or acknowledge, the earned income until the campaign ends. So, even though I have $0 from AdToll listed, I actually made around $60 from them.
The "Other" Column which adds up to $97.37 comes from $52.67 I made from WordPress Link Cloak sales and $44.70 from TheLogoCompany sales.

I expect the "Other" piece of the affiliate earnings pie to increase as time goes on until I find a new consistent affiliate source to use. For example, WordZe has consistently made me money for a long time now. Kontera did well for 3 months, but I'm not using them anymore, so they will soon be out of the pie altogether.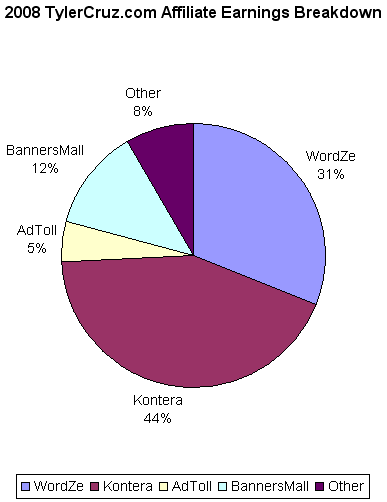 Private Ads are still holding strong as the dominant source of earnings.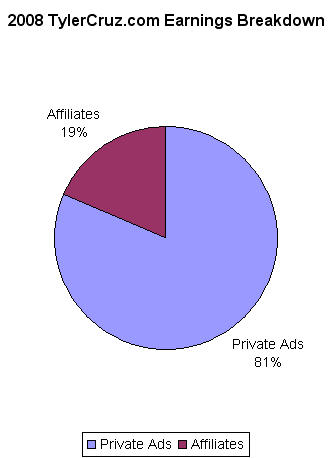 WordZe has continued to prove to be a consistent source of residual affiliate income. I only wish I catered more to affiliate marketers so I could promote it more. Their referral program is really lucrative, check it out if you have the chance, or read my extensive review of them.
My AdToll income has been growing as more advertisers discover the value of my Peel Away Ad. I'm now booked out until July 15th! I love Peel Away Ads because they are a new and unique form of advertisement. They are also very visible yet not over intrusive. If you want to buy a Peel Away Slot on my blog, the cost is $15 per week through AdToll.
BannersMall has an affiliate program and since their service is awesome their conversion rate is very high. I made $85 from them in March which says a lot about their conversion rate considering I only get 10% and their banner prices are cheap…
Private Ad Shoutouts
I'd like to give some quick shoutouts to my repeat sponsors and advertisers:
TTZMedia – John Chow has continued to renew his ad for his TheTechZone affiliate program on my blog and has made his way up to the top of my left sidebar. Check out TTZMedia.com and try John Chow's very own affiliate program.
Motive Interactive – Motive Interactive purchased both a paid review as well as the Embedded 300×250 banner, and have just renewed. Stay tuned for another paid review they purchased where I'll be discussing new features and improvements they're launching.
BooksWealth.com – This is their 5th month renewing their 125×125 Sitewide Banner with us, so if you haven't checked them out yet, maybe you should!
SharpWitDesigns.com – Another advertiser who has renewed many times. Need a custom WordPress skin? Check out their colourful designs.
MotiveInteractive – They've been my 300×250 Embedded Ad Sponsor since March and have continued to renew. They've also purchased a paid review as well. Check out my detailed review of them here.
MarketLeverage – While a relatively new advertiser on my blog, they've purchased 3 slots on my blog and would buy more if there were any more available. They currently hold the prominent 728×90 Leaderboard banner and are eyeing to take the 300×250 Embedded Ad away from Motive Interactive as well… MarketLeverage also sent me a fantastic gift package!
Get a Paid Review
For $140, you can order a custom review written by me on your website, service, or product. I cannot guarantee a positive review as it is after all a review and not one long ad. However, you will get the benefit of receiving an entire post written about your company or product in great detail.
Feel free to view some of the many past paid posts I wrote. Below are some recent ones:
Every single person that has ever purchased them has been extremely satisfied, with the exception of one advertiser who was angry not with the actual review, but because of the negative comments he received (he wanted me to delete them).
Read a post comparing the results of my paid reviews to others here.
Or…
For the same price, you can purchase a Paid Plug, which is essentially a paid review written by yourself.
Grab a Paid Plug or Paid Review!
June Goals and Predictions
I pride myself in usually being extremely accurate in my predictions. I had predicted that May would finish in the $1,400-$1,500 range, and it ended up coming to $1,431.37.
Unfortunately, while I'd love for June to set a new record, I think it will come close, but just a bit shy, around the $1,500-$1,600 range. The only real way that I can set a new record is if I get at least 5 orders for paid reviews.
My goal for June is to make $1,800 from my blog, but that is no small task. Stay tuned a month from now to see the results as usual!
35 Responses to "Blog Earnings: May 2008"